New Home Sales Are Up Again, But Lot Supply Remains To Be a Challenge
November 23, 2021
The economy continues to grow and outperform, but it's not growing as quickly as it has been over the past twelve to eighteen months, according to data shared at Builders FirstSource's market intelligence webinar in October. Unfortunately, the labor shortage and supply chain issues across the industry are still holding back the market's full potential.
According to Zonda Chief Economist Ali Wolf, builders are generally hitting their quota, but cycle times are still stretched out. A return to some semblance of seasonal patterns is giving crews time to catch up, but builders are experiencing delays across the board. There are also some concerns around slower lot deliveries.
New Home Sales Are Still Up Historically
In September, new home pending sales rose 6.9 percent month over month, the second consecutive month to experience gains since earlier this year.
Based on a Zonda survey of division presidents, nearly 72 percent of builders met their quotas, saying that demand was either on track or stronger than expected. While sales were down 9.6 percent compared to September of last year, sales are historically 8 percent slower in September than in August. We just didn't experience normal seasonal patterns last year.
As Wolf aptly stated, comparing 2021 to 2020 is like comparing apples to oranges. Last year, community count was higher, desirable Vacant Developed Lots (VDLs) were available, demand was frenzied, and builders weren't applying sales caps. This year, the opposite is true, which is why Wolf actually predicted that we would see negative year over year numbers for the rest of 2021 back in August. Many builders are still struggling to align sales with overall production capacity, but Wolf expects that to correct itself over the next 12 months.
Compared to 2019, however, new home sales were up 21% for the month of September. In some markets, sales are even up between 30 and 70 percent: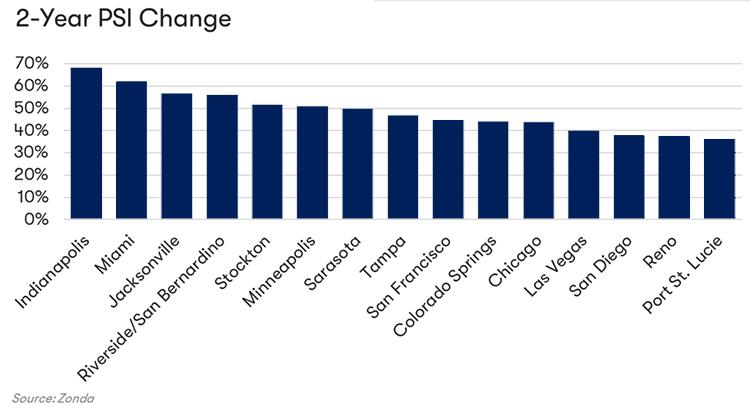 Indianapolis is up almost 70 percent over two years, while Miami, Jacksonville, Riverside, Stockton, and Minneapolis are up around 60 percent. While explosive growth in Florida won't surprise anyone, areas like Riverside and Stockton might raise a few eyebrows. These markets are close to big employment hubs and offer more affordability, and have experienced the positive benefits of migration.
While prices are plateauing in some markets, 60 percent of builders still raised prices month over month. That's down from 90 percent of builders raising prices for months at a time. The majority of those builders are only increasing prices by $3,000 to $7,000, though, and not by $10,000 to $20,000 like they were in the past. Part of that can be explained by the stabilization of some building materials costs, and builders are also now experiencing some hesitation from buyers for various reasons.
Builders Are Selling Out of Inventory Faster Than They Can Replace It
Overall community counts are still down between 10 and 40 percent compared to last year, and builders keep selling out of homes faster than they can replace them. That's because, in general, VDLs have "fallen off a cliff." As a result, Zonda's New Home Lot Supply Index is at the lowest level it's ever been: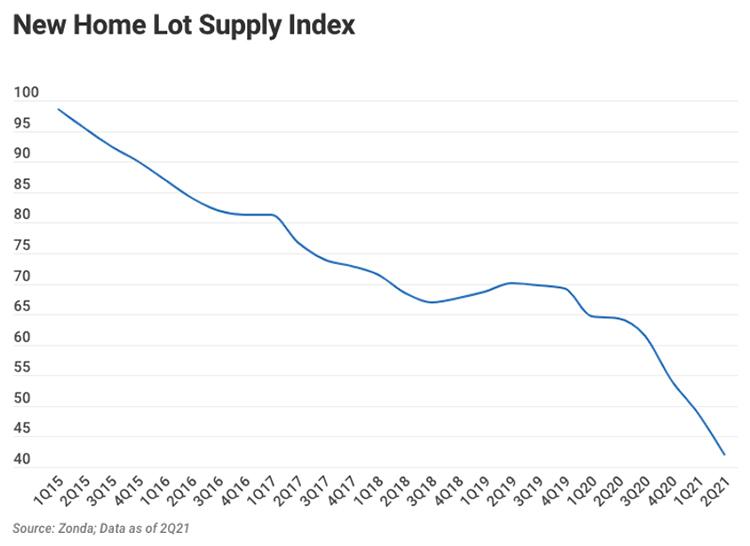 With community counts down overall and fewer VDLs becoming available, it makes sense that housing starts are the highest in places that have a large and growing population, relatively easy regulations and more developable land, such as Texas, Florida, Arizona and Georgia: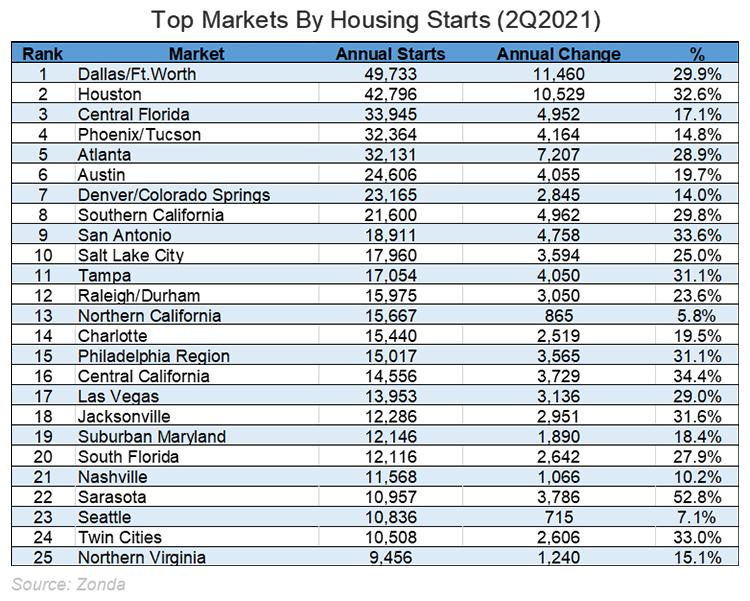 If you break out New Home Lot Supply by market, however, you'll see that the majority of these markets are still significantly undersupplied: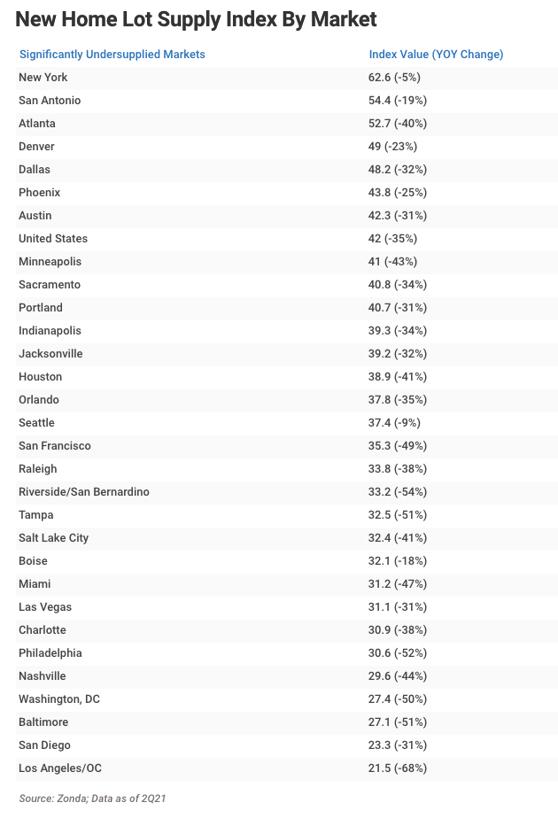 This data tells us two things. 1) Lots have been absorbed and should be turning into new homes, which is good. 2) These lots, however, are being absorbed faster than they can be replaced.
As a result, Wolf shared that "lot data has never been more important when trying to forecast where new home construction goes from here." Lots under development have been more or less flat going back to third quarter of 2019 through first quarter of 2021. In the second quarter of this year, we saw a 14 percent increase in the availability of upcoming lots: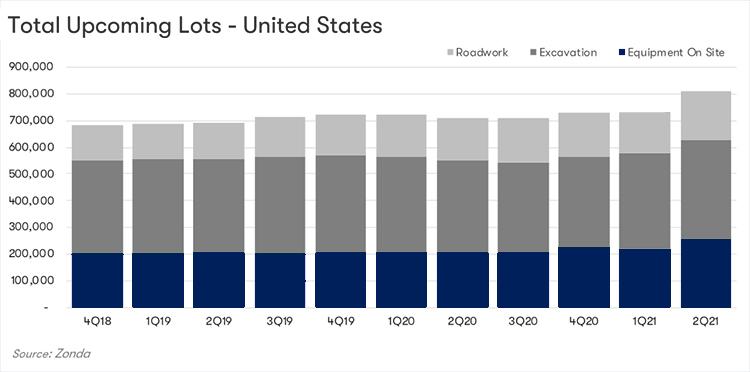 It's important to break out these lots by stage of construction to get a sense of when they will hit the market: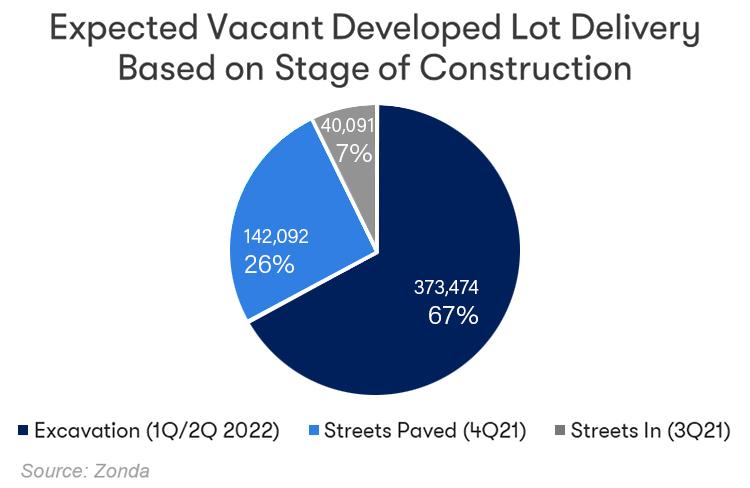 Of the 14 percent increase in upcoming lots, 7 percent (Streets In) should have hit the market in the third quarter, assuming they were completed on time. 26 percent (Streets Paved) are expected to hit in fourth quarter, while 67 percent (Excavation) are likely to hit in the first and second quarter of 2022 given pervasive delays.
While Ali doesn't forecast a 14 percent increase in starts to match the 14 percent increase in lot availability, this lot data does tell us that we should expect to see a lot more homes hit the market over the next 24 months.
You can see what the timelines will most likely look like in your market based on what is in each stage of development (Lots in the Streets In category have likely just recently become a VDL available to the builder):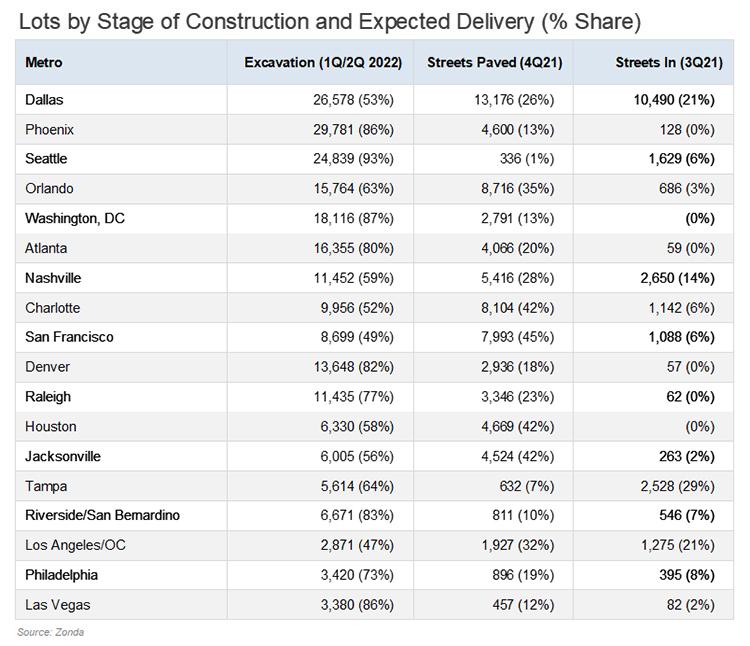 Forecast and Final Thoughts
What can we expect moving forward? Zonda forecasts a 13 percent increase in single-family housing starts to finish off this year compared to last, and an additional 3 percent growth going into 2022:
Wolf expects community count to start trending up toward the end of the year, giving builders the inventory they need going into next year. While sales will be dependent on supply and affordability, Zonda forecasts 8.4 percent growth in 2022:
While we are certainly still experiencing our fair share of supply chain challenges, once those issues are resolved the industry will still have to deal with building material costs and availability, labor availability, land prices and affordability. The good news is that, while builders and developers will still have to contend with several challenges, pent-up demand will continue to support home building for the foreseeable future.
For more insights on the trends shaping homebuilding and the homebuying market, watch the recap of October's Market Intelligence webinar.
Sign up below to be notified of our next Market Intelligence Webinar.