BUILDING INDUSTRY CONTINUES WORKING THROUGH SUPPLY CHAIN ISSUES
November 12, 2021
With the supply chain in the news on a daily basis, it's safe to say many Americans now understand more about the supply chain than ever before. Holiday items have been sitting in containers off the coast of California for weeks, threatening to put a damper on upcoming festivities. Near the end of October, roughly 80 container ships were forming a long line offshore, waiting their turn to dock and unload in the Ports of Los Angeles and Long Beach.
As it turns out, the reasons these shipping containers are having such a difficult time both reaching shore and making their final destination are the same reasons the supply chain is having a major impact on building product manufacturers: rising transportation costs and labor shortages. It's become so disruptive that FedEx, UPS, Walmart and the Port of Los Angeles have moved to 24/7 operations at the federal government's request (the Port of Long Beach had already gotten a head start a few weeks earlier). The hope is that this will inspire other major players — including trucking and freight — to follow suit.
RISING TRANSPORTATION COSTS
The question becomes, who will drive all those trucks? There is an estimated driver shortage of over 60,000 drivers nationwide and rising. As a result, trucking costs are increasing at an alarming rate. Freight rates have jumped 26.6 percent compared to last year, and are the highest they've been in more than 15 years. The expectation is that trucking will continue to be a major concern well into next year.
Just like with consumer goods, pulling building product materials from overseas also continues to have its challenges. Lead times for containers of fasteners, for example, have gone from a few weeks to four to six months. And freight has gone from an average rate of $2,500 to well over $20,000 a container — a 700 percent increase. Some are even paying more than $30,000 per container to have their shipments expedited. While we expect the demand on containers to ease somewhat after Christmas, we do expect it to remain higher than normal through next year.
WHERE HAS ALL THE LABOR GONE
Truck drivers aren't the only skilled labor professionals in short supply. We're also continuing to experience a shortage of warehouse employees and tradespeople like framers, carpenters, plumbers and HVAC professionals. In Zonda's most recent survey of division presidents, 82% of builders shared they're dealing with labor shortages compared to 69% the previous month.
These challenges work together to limit production at the manufacturing level and on the job site — and make delivering the goods that actually can be produced a challenge. The competition for existing labor has motivated employers to increase wages and offer sign-on bonuses to secure the best talent, making it difficult to keep your best workers unless you're prepared to do the same.
SUPPLY CHAIN OUTLOOK
Considering these rising transportation and labor costs, the expectation is that many manufacturers will be announcing price increases in 2022. Some manufacturers have already begun to announce price increases that will start to impact us in January of next year.
What we're experiencing right now is that some building materials are in very short supply. As you can see below, windows and doors are at the top of the list. The shortages, however, are spread throughout: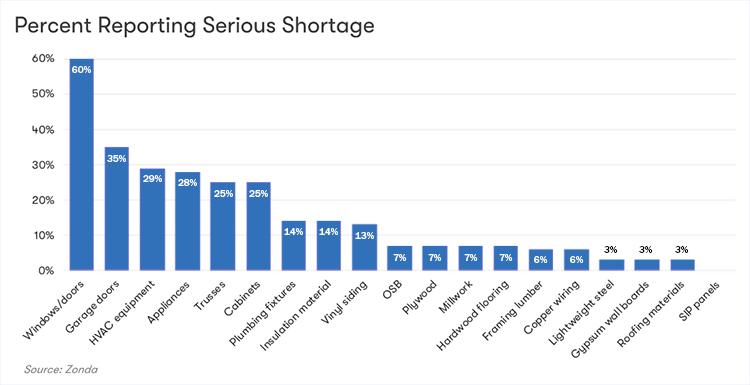 When any of these materials aren't delivered on schedule, builders have to figure out a new way to make the timeline work in order to complete the project — on top of losing precious time and money in the process.
The general consensus is that most building product manufacturers will be able to produce at the same level next year as they have in 2021, with some segments even able to add capacity throughout the year. But, there's no getting around it: thanks to ongoing labor, transportation, and supply chain challenges across industries — because this is by no means unique to residential construction — costs will likely increase in 2022.
Here's the most recent update we have on the availability of some of the most common building materials:
STRUCTURAL BUILDING MATERIALS
Engineered wood products: Supply should remain flat this year, but improve slightly in 2022 thanks to ongoing innovation and an increase in manufacturing efficiencies.
Truss: Builders FirstSource will be operating a couple of new truss plants in addition to adding additional lines to our existing facilities throughout next year, increasing our overall truss manufacturing capacity.
READY-FRAME®: We'll also increasing our READY-FRAME® capabilities across the U.S. as a way of helping you build more efficiently.
SIDING & WINDOWS
Siding: Both James Hardie and LP SmartSide will be adding capacity throughout parts of next year. By the end of next year, we're hoping that this segment will be in a better position.
Windows: Andersen Windows has brought on another plant, producing the 100 series that will help in the Midwestern U.S. MI Windows is also adding capacity. Both companies, however, are signaling that they expect lead times to remain extended through mid-year.
LUMBER
Commodity Lumber: Western wildfires have negatively impacted timberlands, production and transportation, causing a spike in prices. Afterward, however, there tends to be an accelerated effort to log as much timber as possible, and manufacturers tend to invest in capital improvements and ultimately increase their production. Additionally, higher lumber prices are keeping wood in North America (offshore exports are half of what they were a few years ago), which should be a plus for supply in 2022.
COMMODITY LUMBER AND OSB PRICES CONTINUE TO FLUCTUATE
The lumber and OSB price was collapsing earlier this summer, but then the Random Lengths Framing Lumber Composite rose $127 a thousand (33%) over the last six weeks. Aside from the past year, this is the largest and the fastest 30% increase in lumber prices of the past decade: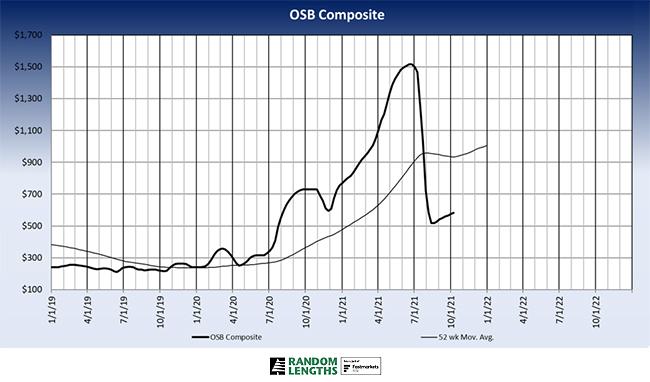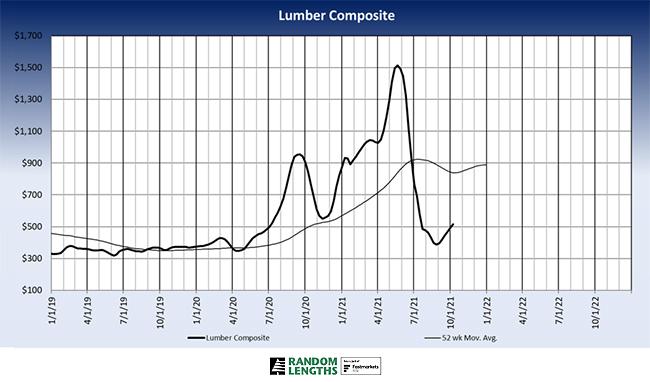 For an idea of where commodity prices will land next year, we can look to housing starts and permits. For September 2021 housing starts fell from 1.615 million in August to 1.555 million, and building permits dropped from 1.728 million in August to 1.589 million.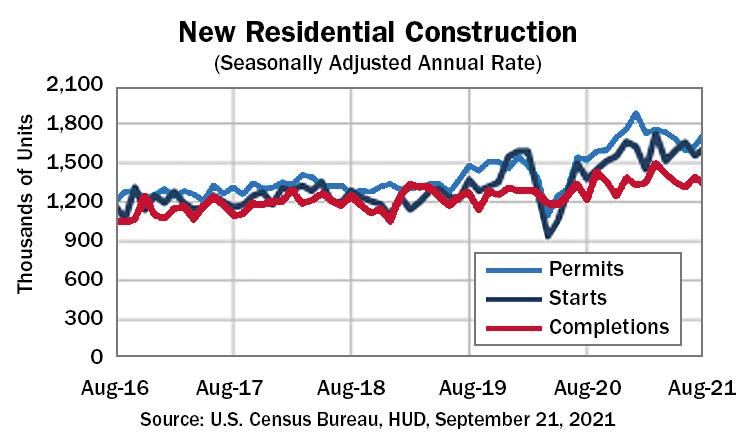 Underlying demand still continues to severely pressure, and even outpace, current supply. If demand continues to trend between 1.5 and 1.7 million starts in 2022, we should fully expect continued high volatility in the commodity prices.
NAVIGATING THIS ENVIRONMENT TOGETHER
While the supply chain continues to face challenges on several fronts, which will continue well into next year, these are a few things that remain under our control:

1. Capacity Planning
Builders FirstSource wants to understand what your plans are next year. Are your starts going up or down? Are you entering any new markets? Can we help you get into those new markets? Can we introduce you to people, trades and our folks in those new markets? We want to help you keep your projects on schedule. By setting reasonable expectations of each other, both early and often, we can work together to ensure that delays are kept to a minimum on your job site. What we do now will pay big-time dividends next year, so please continue to plan ahead and reach out to your Builders FirstSource team to get the ball rolling.

2. Substitutions
With all of the uncertainty and delays happening right now, it's never been more important to be brand-agnostic. Identifying acceptable substitutions up front, instead of when you see a backorder ticket on your job, means we can substitute a similar product that is available while our team is pulling your load. That's added capacity and fewer headaches for you — and it can help keep your job on schedule.

3. Scheduling
We want to deliver your materials the day you need them, possibly even the day before — but definitely not weeks before or weeks after. If you're not sure of product lead times, just reach out to us and we'll let you know. And if you experience a delay on your end, please let us know that as well. The sooner you can let us know of any scheduling interruptions, especially when you're waiting on manufactured value-add products such as truss packages that take more labor and more time to build, the sooner we can adjust our schedule so you don't have product sitting at your job site for several weeks.

One of our most important jobs right now is to help builders navigate today's quickly changing environment and supply chain delays. Improved communication and flexibility are important during normal times, but they're even more so now. Reach out to us early — and often. Let's start by doing some capacity planning together, so we can get ahead of some of these challenges going into next year.
For more insights on the trends shaping homebuilding and the homebuying market, watch the recap of October's Market Intelligence webinar.
Sign up below to be notified of our next Market Intelligence Webinar.