A CLOSER LOOK: THE WORLD OF ENGINEERED WOOD PRODUCTS IN 2020
November 10, 2020
As we approach the holiday season, home sales and remodeling projects continue to remain extremely strong on both coasts. Home starts, however, have been lagging behind. Many multi-family and custom homes have been delayed or put on hold due to the high cost of lumber, which is finally starting to come down after all-time highs.
Halts in production earlier this year extended lead times across many product categories. Manufacturers have been scrambling to increase production to catch up with unprecedented demand, and for the time being, there is more demand than supply. This product scarcity has not only delayed production, it's also driven up the cost of most building materials.
To give you a high-level snapshot of the level of delays some products are currently experiencing, we put together the below heat map: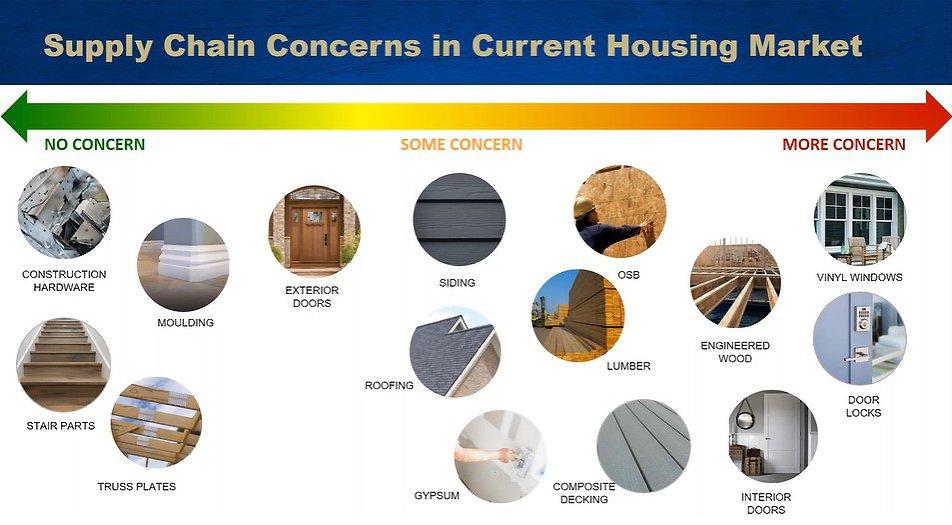 The products on the left-hand side of the chart are experiencing relatively stable manufacturing and limited disruption due to COVID-19. On the right, it's clear that more categories than not are experiencing significant delays or have even been put on allocation.
As you can see, and may be experiencing first hand, Engineered Wood Products haven't been immune to the industry's current supply challenges.
JUST HOW HARD WAS THE ENGINEERED WOOD PRODUCTS MARKET HIT?
Simply put: hard. When states began implementing shelter-in-place orders back in March in response to COVID-19, orders abruptly slowed and in response, manufacturers pressed pause on production. The miraculous recovery of the housing market, combined with increasingly strong demand during the second half of this year, have hit the EWP industry particularly hard.
Unfortunately, mills haven't only had to contend with line shut downs due to the novel coronavirus. In August, Hurricane Laura shut down production at two EWP manufacturer's mills for over a week in Louisiana. Hurricane Delta took the exact same path in October. Southern mills got hit twice in one season, knocking out power and flooding homes and roads. It took time to restart operations and restore truck and rail traffic.
There have been numerous wild fires on the west coast; September's Alameda Fire in Medford, Oregon is a prime example. Local mill employees' homes burned down, power was knocked out, and air quality was incredibly dangerous.
Each of these natural disasters took mills offline, extending lead times for builders who are currently selling faster than they can finish their homes. Suppliers have been working hard to increase their production of EWP and hope to return to a normal balance between supply and demand. Their hard work is paying off, with the industry starting to see reductions in cycle times and improvements in efficiencies.
WHAT BUILDERS FIRSTSOURCE IS DOING TO KEEP BUILDERS BUILDING
Builders FirstSource is continuing to work closely with all of our strategic suppliers to maintain inventory and fill our pipeline with products for your jobsites. In markets with huge spikes in demand, we have also forged additional supplier partnerships to help ensure our customers can keep building.
With 20 EWP saw processing facilities throughout the country, Builders FirstSource offers several value add capabilities for your EWP floor systems:
Our automated cutting systems integrate with builders' design files to produce accurate floor packages.
Precision end-trim options minimize and even eliminate jobsite cutting.
Pre-cut holes for HVAC & plumbing save time, improve coordination between jobsites and help your HVAC crews and installers comply with social distancing guidelines.
Individually marked pieces match your EWP layout for faster assembly.
Our EWP value-add capabilities help ensure faster and safer builds, while lowering overall package costs.
Based on market trends and analysts' predictions, we expect demand to remain strong through the end of this year. Reach out to your local Builders FirstSource representative so we can understand your needs and get ahead of them. The more we communicate, the better we can provide you with what you need.