CELEBRATING WOMEN'S HISTORY MONTH 2023
March 14, 2023
Every March, we are proud to celebrate Women's History Month to honor women's contributions to history, culture and society – as well as spotlight the many talented women who help shape who we are at Builders FirstSource. We are especially excited to showcase a few of our team members here who are making an impact every day!
Watch the video below to see a small sample of how women make an impact at Builders FirstSource.
MEET ALISON STECKOWSKI
Outside Sales Specialist – Bayport, NY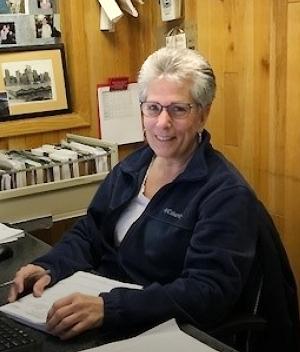 As a 25-year veteran of our organization, Alison has been part of four mergers and acquisitions as she has worked her way from counter sales to store manager to her current role in Millwork. When asked about her long tenure at BFS, she points out the culture. She said she is treated with respect and as an equal by her colleagues and considers them her extended family. Alison also credits her managers and leadership for offering her numerous opportunities and giving her space to learn and grow. Read on for Q & A with Alison.
Why did you join BFS, and why have you stayed?
I started my career in the building supply industry in 1986 when I got married and moved to the east end of Long Island. My husband and two brothers-in-law were in construction. With family support, I jumped into the building supply industry, starting at the counter, and began learning all that I could. I was given numerous opportunities to learn and grow and was very fortunate to have the support of my team members and management. My self-confidence grew as I realized how much my colleagues valued and trusted me. I wasn't afraid to try different positions. My career path advanced from counter sales to estimating, office manager, advertising manager, store manager and to my current role as Millwork Specialist. I became a BFS employee through acquisition.

Though my physical employment location has not changed since 1998, I can say I've worked for 4 different companies while at Bayport, NY! I have stayed with BFS because I'm treated with respect and as an equal. My input is heard and considered. And I feel like my co-workers are also part of my family.
What has allowed you to grow your career?
Let's give credit where credit is due. I would not have been able to advance in my career path without the encouragement and support from my managers over the years. I've never been told I couldn't do something and have always been encouraged to try new things. Even when the learning curve was difficult and I made mistakes along the way, I was never discouraged from trying and learning. My managers offered me the opportunities to grow. It was up to me to learn the subject matter and apply it to my job out in the field. I'm also grateful to the customers who welcomed me onto their jobsites. As you may imagine, not every builder saw me as an expert in my field. I would encounter those who looked beyond me for 'the guy' who could answer their questions. It took patience but I was usually able to overlook those slights and move forward with a smile on my face. (And maybe I occasionally gloated when 'the guy' offered the same answer or solution that I had!) Early in my career while riding with a vendor sales rep, he asked me how I was finding it 'out there' and commented that I probably had to know twice as much as my male counterpart. How true that was!
Why is Women's History important to you?
Women's History is an opportunity for women to share our stories… good and bad. It is an opportunity to show that we have strength - a strength that grows in leaps and bounds when we join together in a united front. By sharing our history, young women can better understand how much we have achieved over the year even while facing adversity. When I started in 1986, the handful of women at the location held 'traditional' positions such as cashier, bookkeeper or office manager. Now it is not uncommon to see female vendor reps, female outside sales reps for building supply companies, and female upper management. By sharing my story, I hope I can give hope, encouragement and support to young women just starting out in this industry.
Who are some of the most important figures in Women's History for you? Why?
The person who comes to my mind first when we talk about Women's History is Rosa Parks. Probably to most she is recognized as a strong figure in Black History. But she had to be a very strong-willed woman to fight for her right to sit in a seat anywhere on that bus. I admire her for fighting for her rights, regardless of her race or gender, in a time when she most likely would be punished in some way for speaking out. This did not stop Ms. Parks because she knew she was in the right.
The other woman that comes to mind when I think of Women's History is my mom. She was a role model for her children (2 girls, 1 boy) in the 1960's and 1970's showing us that her voice counted. She was active in the League of Women Voters, was granted a meeting with a business leader or teacher when an injustice had been done to a member of her family, held a full-time job to help pay for tuition when it came time for the kids to go to college, and was a support member of the Alzheimer's Disease and Related Disorders Association early during its inception helping those with Alzheimer's or those caring for someone with Alzheimer's in need of support. Growing up, it was never a question in my mind that men and women are equal because I had never been shown anything different.
It's been a privilege for Builders FirstSource to count women like these among our team members for decades. It's an exciting time to be in the building industry, and more and more women continue to make their presence felt across our organization on a daily basis. We know that moving forward, women will continue making an even greater impact in our business.