MARKET INTELLIGENCE: OCTOBER 2020
October 22, 2020
Few building material categories have escaped COVID-19 wreaking havoc on their supply chains. Labor management and raw material constraints, coupled with strong demand, are stretching lead times and lack of availability to unprecedented levels.
As demand continues to surge in residential and commercial home building, builders who were accustomed to receiving product within a few days or weeks are now being forced to wait multiple weeks and, in some cases, months. A few reasons for the extended lead times and availability issues include:
Pandemic-related challenges in manufacturing, such as labor shortages, facilities suspending operations and production constraints, the result of safety measures to reduce the spread of COVID-19.


Higher than expected seasonal demand. According to the U.S. Department of Housing and Urban Development and the U.S. Census Bureau, sales of new-construction, single-family homes in August surpassed 1 million reaching their highest pace since September 2006. Sales increased 4.8 percent to a seasonally adjusted annual rate of 1.01 million units.


Raw material shortages, including PVC, vinyl resin and aluminum.


High demand for transportation, resulting in increased freight costs, giving carriers the ability to pick and choose their loads.


Natural disasters, from wildfires ravaging the western U.S. to a boom in tropical storms inflicting severe damage to coastal areas.


To help our customers mitigate supply chain risks and better plan for future projects, Builders FirstSource has put together the below chart highlighting current lead times for various building material categories: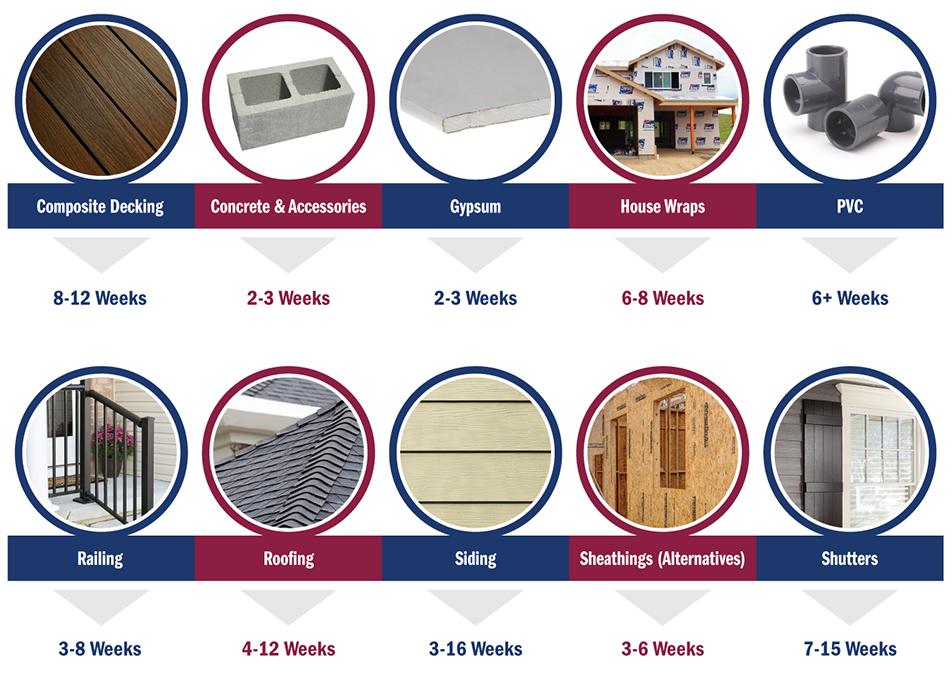 While the U.S. construction supply chain has been interrupted, we are working closely with our suppliers to overcome service issues and to ensure adherence to current lead times. Partnering with alternative vendors has also helped alleviate the supply chain pinch felt in certain product categories.
Moving forward, it's more important than ever to plan ahead, ordering products ahead of time in anticipation that lead time and availability issues will continue to create challenges. Communicating early and often with your local Builders FirstSource sales representative is critical to all parties' shared success. Let's keep the momentum of the last few months going!