HOW BUILDERS ARE MANAGING THE HOUSING MARKET SLOWDOWN
September 23, 2022
Rising interest rates and home prices are having an effect on the housing market. Buyers are more cautious with less competition for homes, and that means homes aren't being bought as quickly as they have been in recent years.
These changes have caused anxiety for both builders and buyers, with many fearing the worst-case scenario of a market bubble bursting in the near future. It's important to remember that while we are seeing decreases in home sales and pending home sales, as of now we're just seeing those numbers fall back to 2019 levels, which was considered a very good year for housing. Given the homebuying frenzy of recent years, it could be said that the market is normalizing. We are seeing fewer homes receive multiple offers for well above asking price within days of hitting the market.
That being said, the market is slowing down, and both builders and buyers are adjusting to it. Most builders are dealing with slowing demand. About 80% of builders have been reporting over the last few months that demand hasn't met their expectations, and the slowdown has been enough to cause concern for about two-thirds of them. In July, only about 15% of builders say demand is stronger than they expected or on track.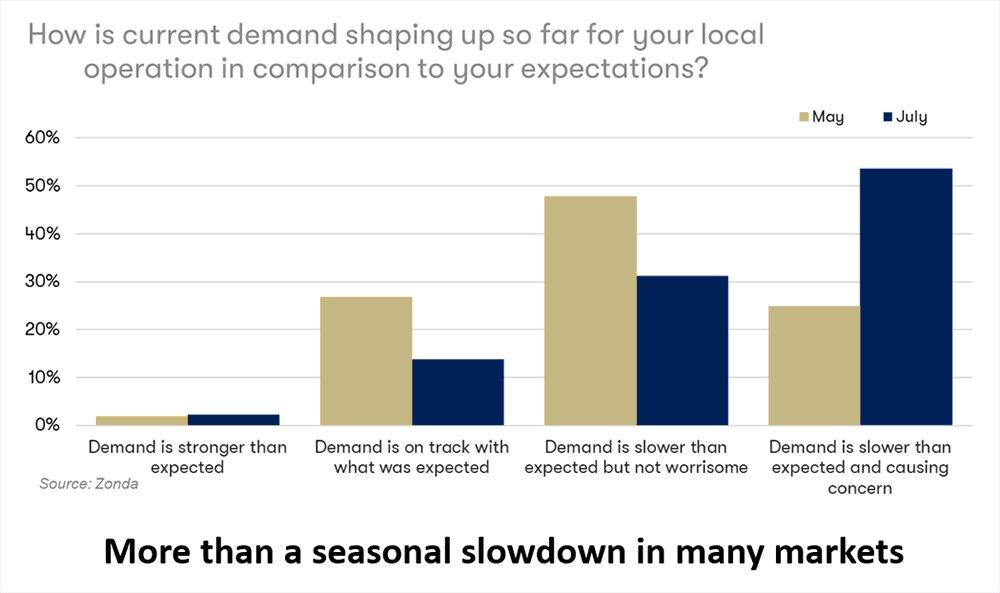 Although some builders feel the market is normalizing after the last few years, others feel it is softening or even weakening. This means that buyer activity is down and cancelations are up. Buyers have stopped coming to builders, who must now invest in marketing and/or offer additional incentives for buyers to purchase a home. In fact, 73% of builders are reporting increased incentives on new homes, such as contributing to closing costs and interest rates.
LIKE BUYERS, BUILDERS ARE ALSO BEING MORE CAUTIOUS
How are builders responding to this new market? Many are slowing down housing starts. Approximately 87% of builders are planning to slow starts, with over 30% saying they will do so "significantly." Many are waiting for current inventory to sell or they may be planning, like many buyers, to wait and see if things stabilize more over the next couple of months before starting new projects.
The number of available lots has been steadily increasing since early 2021, with the vast majority currently being in excavation. While most builders are expecting to slow starts, about 60% of builders are expecting to purchase the same amount of lots or more as they originally forecasted for this year. Among builders who expect to purchase fewer lots than anticipated, some are expecting only 5% - 10% fewer, but a little over 10% expect to purchase more than 20% fewer.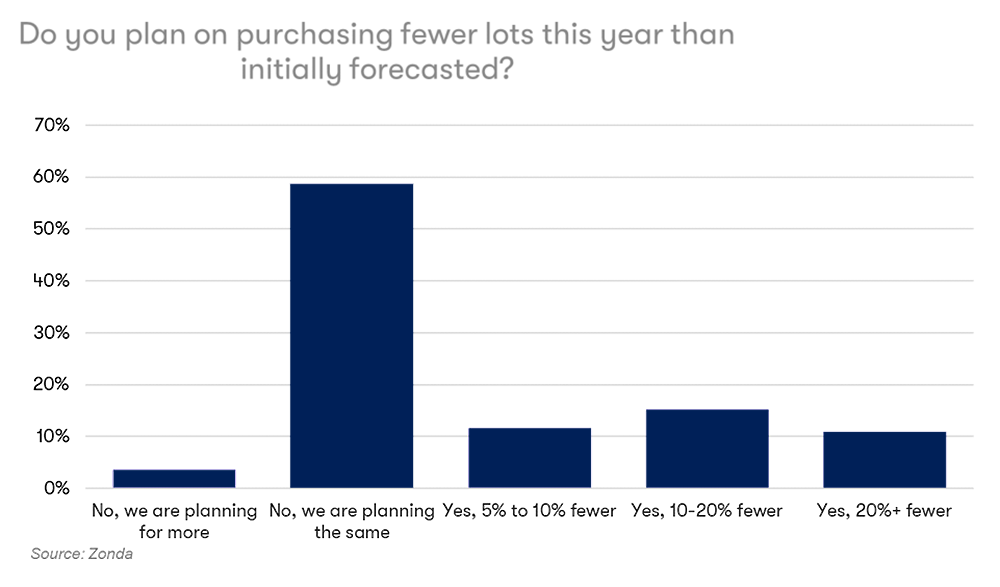 Similar to the situation with lots, most builders are still moving forward with their land acquisition strategy. About 55% say they are "cautiously moving forward," but over 20% are pausing on deals altogether. Furthermore, about 15% are still placing bids, but bidding lower, particularly in places where land prices are high.
CASH BUYERS AND CERTAIN INVESTORS ARE LESS AFFECTED BY RISING RATES
Since those buying homes with cash, such as investors or those downsizing with equity, are not affected by interest rates, those buyers are still active in the market. In fact, because traditional buyers have slowed down while they wait for the market to settle, the number of sales through cash and investors has increased this year.
Many cash buyers and investors are involved in the rental market, which is described as "extremely strong" right now. Renewal rates are at record levels as people are choosing to stay put instead of getting into the buyers' market. Meanwhile, rents are increasing, concessions to renters are few and far between, and unemployment is low, which means people can afford to stay in their home.
Plus, demand is very high for rental availability. Potential buyers are facing several challenges, including basic hesitancy due to the current state of the economy. As a result, the rental market is strong. There are good opportunities available for cash buyers and investors.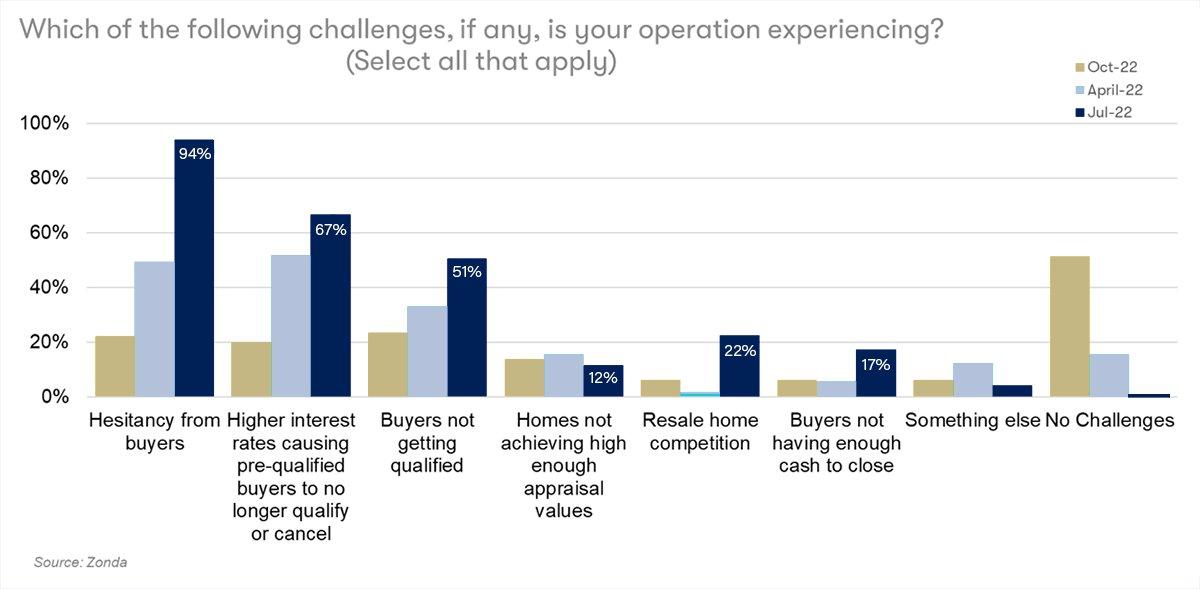 PREPARING FOR THE FUTURE
The market is going through an uncomfortable adjustment. The industry has shifted from taking orders to having to actively sell. It's important to remember that this is the ultimate interest rate industry. It can slow fast, as we've seen this year, but it can rebound quickly as well. People do want to purchase homes. Good homes and good locations will win out, but consumers are responding to costs.
It's good to try to think a few steps ahead. If the market gets worse, what moves can be made to weather the storm? It's good to have those hard conversations now. The building industry plans for not just seasons and quarters but years at a time.
When looking down the road, Zonda is reporting that there is a demographically varied buyer base and a record level of people who plan to purchase a home in the future. They may be cautious and waiting for the right time, but many buyers are still there.