THE COMEBACK KID: THE HOUSING MARKET'S UNEXPECTED RESILIENCE IN 2020
October 29, 2020
Back in March and April, the future was not looking bright for new home sales. Denver was down to 1.7 sales a month per community, Los Angeles was down to 1.4 and Las Vegas plummeted to 1.2. After six to eight weeks, though, things miraculously began to turn around, and the industry has been trying to catch up ever since.
As of last month, the Los Angeles market was at 3.4 sales a month per community (a 111% jump!), and Las Vegas was at 4—despite having the number one unemployment rate in the country. Some of the markets with the highest unemployment rates surprisingly have the best activity in home sales today.
RECORD-BREAKING GROWTH
The summer months of July and August normally see home sales drop. August is often one of the worst months for builders. Not in 2020. This August, new home sales were up 40% year over year and builders have been able to sell 10-14 homes per month. During our Market Intelligence Webinar, Chief Economist Ali Wolf shared, "No one, not even the smartest forecaster, would have said activity would have been up 40%."
These gains haven't been concentrated in certain parts of the country, either. Sacramento was up 70% year over year. Austin was up 60%. Raleigh, Jacksonville and Denver were up over 50%. Think the San Francisco Bay Area is a ghost town? One builder recently shared he'd sold as many homes there in six weeks as he had during the first six months of this year.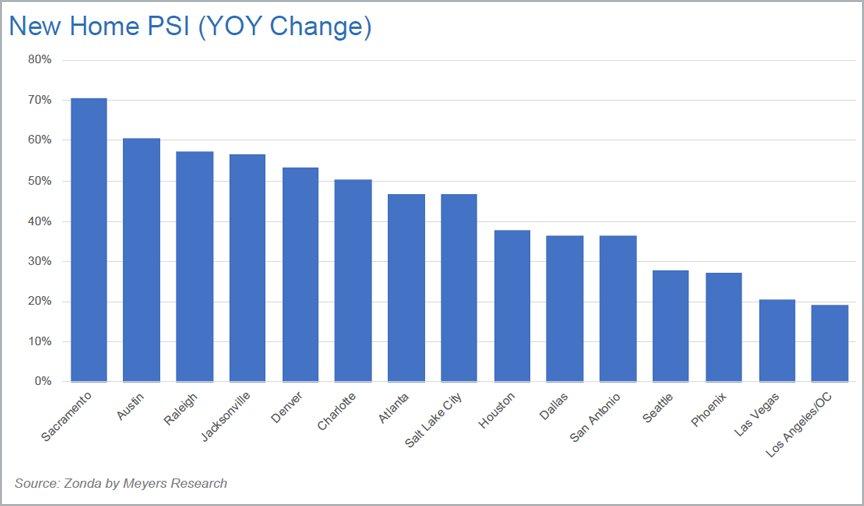 Several markets are also up month over month, including Raleigh, Sacramento, Charlotte, Austin, Houston and Jacksonville. Several markets are down month over month—like Los Angeles, Salt Lake City, Phoenix, Denver and Las Vegas—but are still doing much better than expected for this time of year.
As a result, builders have been burning through inventory. Thanks to high demand, limited supply and low mortgage rates, builders have been able to raise prices in order to keep their margins steady. In fact, 60% of new home communities raised prices, compared to just 40% last year. Some even raised prices higher than 60%, including Phoenix, Denver, Las Vegas, Sacramento and San Antonio.
September also turned out to be a very strong month for new construction. A vigorous housing market helps to lift up other sectors, so this is good news for the broader economy. Each new home creates about three jobs, and home buyers will then spend additional money to decorate and furnish their new homes. Since consumers represent 70% of the overall economy, this is critical. "It's really important for the housing sector to hold up," Ali shared, "because it can keep the rest of the economy—at least to a certain extent—on track."
LOOKING AHEAD
So, what does the future hold? While most predictions this year have fallen flat, there are four things we can keep an eye on that will indicate whether this growth can continue: home equity, interest rates, consumer confidence and the stock market. Three out of four of these are really strong. Consumer confidence is the biggest wildcard right now.