HOUSING MARKET UPDATE: DEMAND REMAINS HIGH, BUT BUILDERS STRUGGLE TO COUNTER CHALLENGES
September 27, 2021
The overall economy is not only back to pre-pandemic levels — it's exceeding those levels in many ways. In the first half of 2021 alone, U.S. GDP almost hit the numbers forecasted for the entire year.
The labor market, however, still presents a bit of a challenge. Residential construction has added more than 58,500 workers since February 2020. That may paint a rosy picture, but it doesn't tell the full story. Roughly 70 percent of builders list labor shortages as one of their biggest concerns. So, even though we've actually exceeded pre-pandemic employment levels, continued demand presents its own challenges, including a struggle to find workers.
A FEW SPEED BUMPS ACROSS THE SUPPLY CHAIN
The past 18 months have been a roller coaster ride for home builders' supply chains due to COVID lockdowns, mill shutdowns, fierce competition for available products and natural disasters (not to mention the labor shortage). Each of these factors created significant challenges for builders as they have struggled to keep up with continued high demand for new home construction.
TRUCKING, RAIL & CARGO SHIPS
Transportation is a key issue. There continues to be a truck driver shortage, and it's only gotten worse as the economy continues to pick up. That's pushed more products to be delivered by rail, which has resulted in stress on that mode of transportation. On top of that, the wildfires out west have diverted routes and caused shipping delays.
Products being shipped from overseas, such as fasteners and trim, also continue to see longer lead times due to a shortage of shipping containers and cargo space. As the holiday season approaches, demand for shipping containers will continue to soar as retailers manage their increased orders. Hopefully, we'll start to see these challenges ease up at the beginning of next year.
Rising transportation and labor costs have forced many building product manufacturers to announce price increases for a variety of building materials as we head into the end of the year.
LUMBER & OSB
Wildfires have caused problems for the logging industry in northern California, the Pacific Northwest and British Columbia. Even though some of the mills have still been able to make and ship product, the wildfires have been extremely disruptive to the rail logistics network, which adds time and cost to material. On top of that, a significant increase in the duty deposit rate for Canadian imports into the U.S. will go into effect in late November.
The good news is that commodity lumber and OSB prices have declined: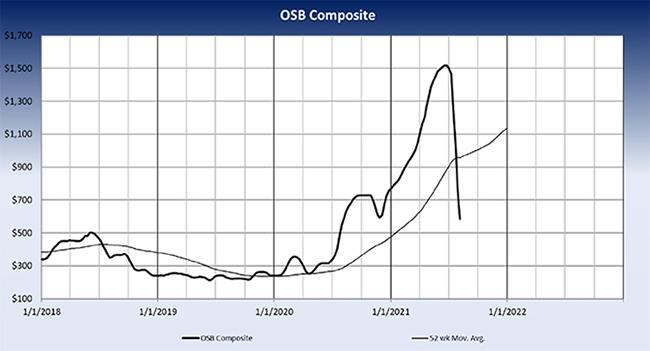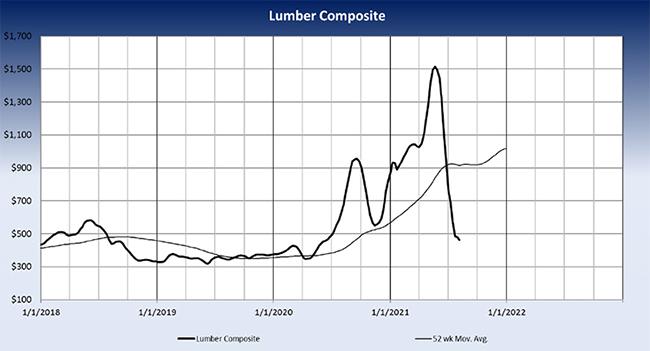 In July, 50 percent of builders said they began to experience some easing of lumber costs, compared to only 15 percent in June. Several Southern Yellow Pine mills in the southwest are set to reopen or greenfield new projects, so we're going to see an increase in lumber production.
In addition, two North American OSB mills were able to restart operations, reaching a combined capacity of 1.3 billion square feet (an equivalent of approximately 130,000 potential housing starts!). As a result, we expect to continue to see relief on lumber costs and OSB supply.
AND EVERYTHING ELSE
While this reduction in costs is a welcome change, other building material costs have gone up and there is still some significant lag time to deal with in the supply chain.
All building product manufacturers have been slowly working on increasing output to meet the demands of the marketplace, but certain product lines, features and specs still require extended lead times. That's the reality we have to contend with today, which makes proactive planning and continuous communication with your suppliers more important than ever.
WATCH OUT FOR INCREASING LAND COSTS
In Zonda's most recent survey of division presidents, 20 percent of builders said land costs had gone up between 16 and 20 percent. Another 14 percent of builders said land costs had gone up 21 to 30 percent, and 9 percent said land costs had gone up a surprising 30 percent: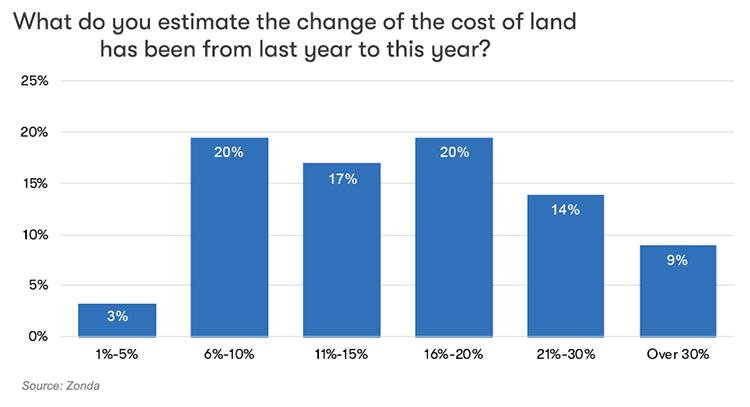 The majority of builders, however, haven't expressed an immediate concern with respect to land costs over the next six to twelve months —although that changes when looking at land cost and availability in 2023 and 2024.
MANY BUILDERS ARE STILL INTENTIONALLY SLOWING NEW HOME SALES
Many builders have been raising home prices to slow sales, and it's been working: 29 percent of builders have said they've seen some buyers pause because of rising prices. Bidding wars actually began to slow down in June. At its peak, 74 percent of new homes on the market entered into a bidding war. Now it's 65 percent.
A majority of builders shared that demand in July was on track or slower than expected, but not enough to significantly raise concern: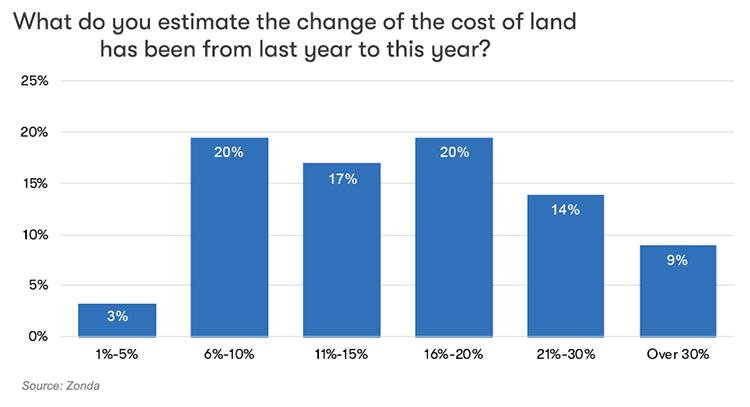 Zonda's most recent survey of division presidents, which solicits feedback from leaders of homebuilding organizations across the country, found that builders are currently divided into three camps:
"We had sales in July, but demand has been slower than anticipated."
"We have seen no sign of a drop in traffic and are still receiving offers well above asking price."
"We're intentionally not writing contracts in July to catch up with our backlog/deal with shortages."
Seasonality was notably absent in 2020, but it's coming back into play this year. The industry is experiencing some normalization. As great as demand has been for the industry, it's not feasible to continue to maintain such a breakneck pace while dealing with so many supply, labor and land challenges.
The fever finally broke, but Zonda Chief Economist Ali Wolf joked that it's like racing 120 miles per hour instead of 150. It's still fast. Demand may have cooled somewhat, but housing still remains one of the top sectors in the U.S. economy.
That's what makes understanding the housing market today so challenging. It's important to put all of the data into perspective and remember that some of this is intentional on the part of the builders.
WE ARE STARTING TO SEE A SMALL DROP IN PRICING
Against all expectations, new home prices have gone up and up for the past 16 months. That changed in July. The good news is that this slowdown coincides with a leveling off of runaway building material cost increases.
Based on what we're seeing on the consumer side, 61 percent of builders are now noticing some hesitancy from buyers. As a result, 26 percent of builders took no price increase in July, which we haven't really seen since last year. That's a good sign that builders are slowing the brakes a little to give people time to jump into the market.
That means that 74 percent of builders are still raising prices, but they're not raising them as much as they have in the past: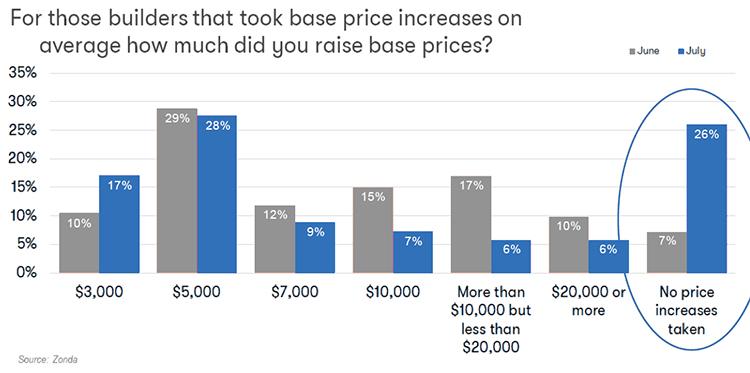 Builders continue to have an extremely desirable product, and the demographics for housing remain strong. So, while fewer builders are raising prices in certain markets, many builders in the hottest and positive net-migration markets are still doing so. For example, in San Antonio, Houston, Dallas, Tampa and Riverside, 80 percent of all projects raised prices between 40 to 50 percent compared to the same time last year: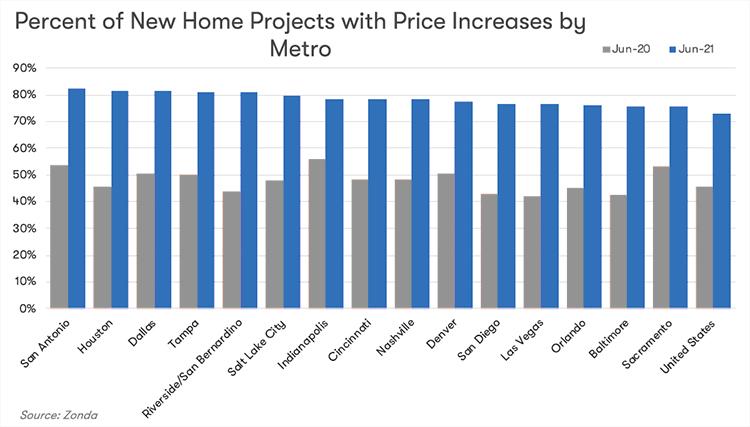 Demand may have slowed slightly, but it continues to be strong overall. The industry is experiencing some shifts, including discussion of a price ceiling and bringing incentives back to the market. And while not every home may be selling the same day it's listed, builders still have options (and often long interest lists). We'll need to keep a close eye on the second half of the year because affordability will likely become stretched.
NAVIGATING TODAY'S CHALLENGES—TOGETHER
The reality is that there is fierce competition around the world today for a finite number of resources. As the global economy continues to pick up, competition for those products will only increase.
Builders FirstSource continues to source products from across the globe so we can help keep builders' projects moving forward. As we work with builders to navigate today's challenging circumstances, we recommend doing the following to help ensure you can keep moving forward on your projects:
Since a number of products are on allocation, consider what's more commonly available in the marketplace right now.
When you're designing a project, work with your Builders FirstSource designers to optimize the layout and simplify the design (such as removing EWP beams and headers where they're not structurally required), so that we can align available product offerings with your current needs.
Take advantage of pre-assembled products where possible, such as our READY-FRAME® pre-cut framing package, to improve efficiencies and reduce labor at the job site.
Focus even more attention on pre-planning in the build cycle. The more data and information we can have up-front from our customers and vendors, the more we can help keep the building process moving as smoothly as possible.
Take the Goldilocks approach to ordering products: Don't order too soon or too late. The first approach can create a buildup of product on the ground (think windows and trusses) and result in longer lead times in that product category for others.
More than ever, a little creativity and ongoing communication with your local Builders FirstSource team is critical. We truly appreciate the partnership and support, and we're here to do everything we can to keep you building.
For more insights on the trends shaping homebuilding and the homebuying market, watch the recap of August's Market Intelligence webinar.
Sign up below to be notified of our next Market Intelligence Webinar.