YOUNG COUPLES (AND FAMILIES) SAY "I DO" TO FIRST-TIME HOME BUYING
September 3, 2020
New home pending sales are up significantly over last year and hit an all-time high as a share of total closings in June. According to the National Association of Realtors, pending home sales – which measure signed contracts to purchase existing homes – increased 5.9% in July compared with June. Year-over-year, contract signings have risen 15.5%. It should come as no surprise that July was record-breaking for numerous builders, especially for those in the South, Intermountain and West regions.
With new home sales taking a larger piece of the total home buyer market, keeping up with demand (build cycle time) has never been more pressing. A significant number of Americans do not feel comfortable moving during the pandemic, so existing home inventory is scarce as a result. This severe shortage of existing homes for sale is putting a greater strain on new home supply and product availability. Builders FirstSource's customers are rapidly selling their inventory as buyers are on the prowl for new houses, especially ones with floorplans that accommodate remote work and learning.
This is a great opportunity for our industry to capture more share of the total housing market. In response, Builders FirstSource is laser focused on helping our customers build houses quickly to capitalize on these unprecedented market conditions. Our customers have been able to raise their prices and maintain a high level of demand for their homes to date; however, nobody can be sure whether current market trends are sustainable. One way we are helping our customers is by eliminating inefficiencies in the building process. Quicker build times, reduced waste, cleaner jobsites for homebuyers to walk, less labor and improved onsite safety are all factors that contribute positively to builders nationwide.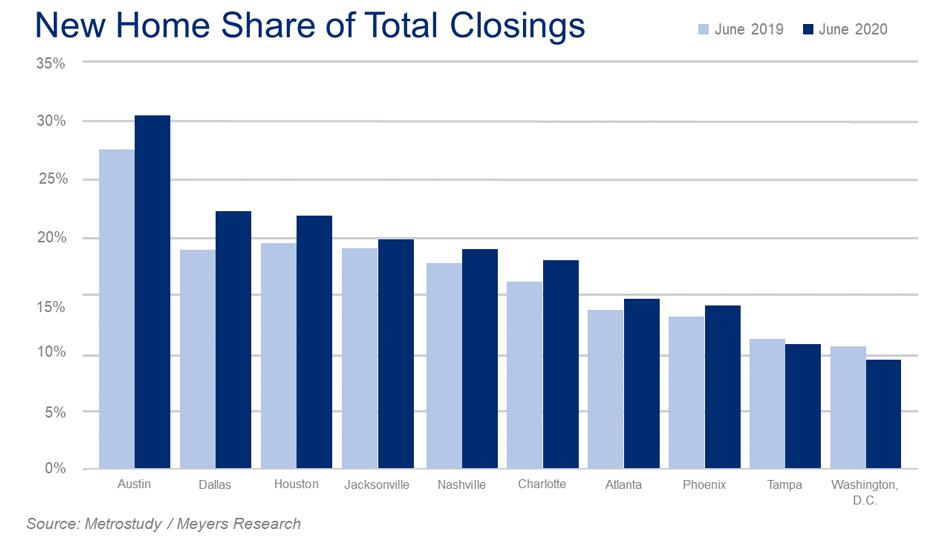 A CONTINUED SHIFT TO ENTRY-LEVEL HOMES
Due to historically low interest rates, the "rent" vs. "own" gap has narrowed significantly, making it cheaper for individuals to buy a home than rent a home in many U.S. markets. Combine that with the fact hundreds of thousands of weddings scheduled to take place between March and September have been postponed due to COVID-19, and you've got young couples with unexpected disposable income in their pockets. Many of these couples are taking what would have been the down payment on a wedding and using those funds to put a down payment on houses. Thus, it should come as no surprise that first-time home buyers are making up a disproportionate share of home sales in 2020.
In addition to increased demand from young couples, the traditional buying season has shifted. The pressure of being in a new home by the start of school year is reduced. Families are looking for houses where space can be better utilized for home office and home schooling needs. Many of our home builders are adjusting their floorplans to accommodate this demand.
Also worth noting, on average, the bottom tier of pricing is outselling the highest price points nationally by two and a half times to one, with an even greater spread in certain markets. Affordability and attainability are the driving factors of this trend, making the dream of homeownership a reality for young couples and young families across the nation.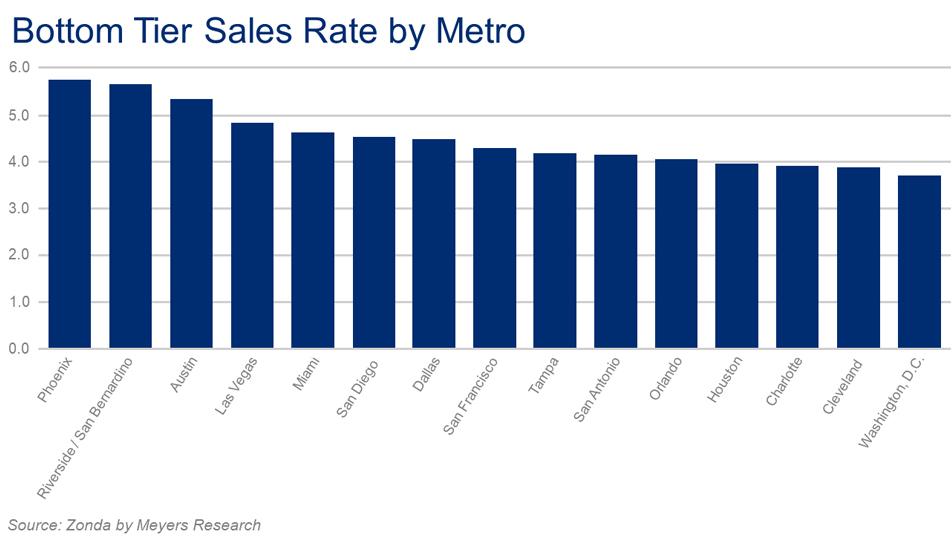 THE POTENTIAL HOME BUYER POOL IS ACTUALLY MORE THAN ENOUGH
Some builders have expressed concerns about the $600 a week unemployment benefits having halted in July, with details about the next wave of federal unemployment aid still being ironed out. It's important to bear in mind, however, that the people impacted most by COVID-19 from an employment standpoint are in the services industry and don't comprise a significant share of the pool of individuals buying a house.
In more positive news, 6.6 million jobs were added back domestically in June and July, which is helping to lift people's ability to buy homes. Chief Economist Ali Wolf with Meyers Research crunched the numbers in early July and uncovered a hypothetical buyer pool of 20 million people, comprised of roughly 7 million non-homeowners and 13 million existing homeowners.
A FINAL WORD
Let me end with a recent quote from Lawrence Yun, the Chief Economist for the National Association of Realtors, as he gives his input on the V-shaped sales recovery we are witnessing as homebuyers continue their strong return to the housing market.
"Anecdotally, realtors are telling me there is no shortage of clients or home seekers, but that scarce inventory remains a problem," Yun stated. "If 20% more homes were on the market, we would have 20% more sales, because demand is that high." He also said he expects housing starts to average at 1.35 million in 2020 and to pick up in 2021, to 1.43 million.
Let's keep our foot on the gas. Builders FirstSource is here to help accelerate your business. Communication and collaboration on material needs and forecasts will be the keys to our mutual success.