FINDING OPPORTUNITIES FOR BUILDERS IN THE CURRENT HOUSING MARKET
May 18, 2023
In April's Market Intelligence webinar, Ali Wolf, Chief Economist at Zonda, shared that although the economy is likely past its peak level of inflation, housing affordability is still a challenge. While the market appears to be improving and affordability is getting better as well, they're still significant challenges. We'll examine affordability and supply more broadly and then show you strategies that might be valuable to builders going forward.
Compared to 2019, the median monthly payment is up 82%. Median monthly payments were below $900 in 2020. They reached a peak of about $1700 last year and are currently about $1600.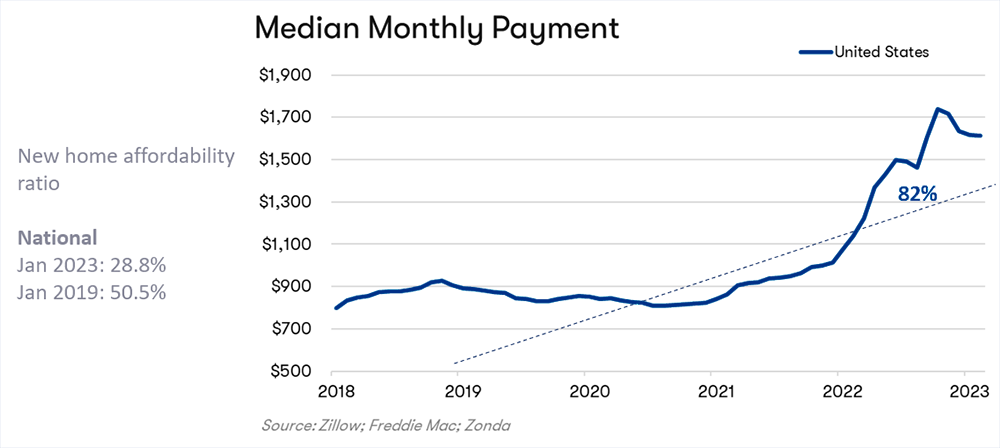 In 2010, plenty of places in the US had a payment-to-income ratio (i.e. monthly payment divided by monthly income) between 10% and 20%. Those ratios have continued to rise - significantly so in many areas - which means that more household budgets are stretched to make monthly payments.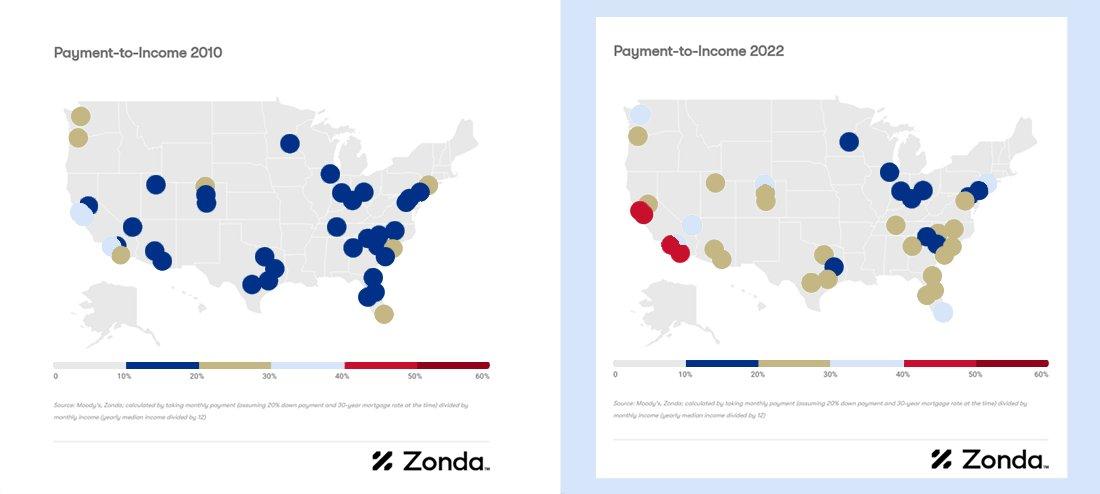 Pre-pandemic, 50% of households could afford the median price of a new home. Now, it's 30%. So, although it could be worse, homeowners' budgets are being stretched — and sales have responded accordingly.
Existing home sales are down about 23% compared to last year. New home sales are down about 18%, but they are now at about the same level they were in 2019 (a healthy year for the housing market).

HOUSING SUPPLY
Housing supply is currently very tight. Although active listings are higher than at this time of year in 2022 and 2021, they are well below the levels in spring in each of the years from 2017 to 2020.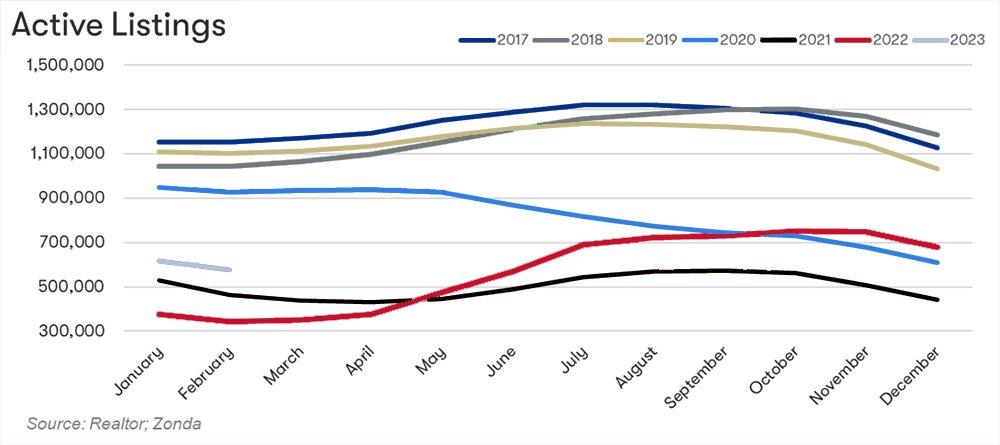 Wolf suggests that part of the reason for tight supply is that many people are reluctant to move and reset their current mortgage rate. They want to avoid those high monthly payments, so they're considering other options instead.
One of those options is to tap into their current home equity and use it to move into a different home, but also turn their existing home into a rental property instead of selling. Because they want to own a second home, these homeowners are adding to demand. However, by renting out their existing home instead of selling, they're not adding to supply.
This is part of the reason that resale supply is still down in every market across the country compared to 2019.

QMIs
QMIs are Quick Move-Ins — homes that can be moved into within 30 days. As Wolf puts it, "QMIs are not inherently bad." In fact, it makes sense for builders to have an inventory of QMIs right now because there's so little available on the resale side.
Weekly QMIs are down from their peak last year, but they're still up 33% from 2019. About 60% of builders are comfortable or somewhat comfortable with their QMI inventory; 37% are uncomfortable or somewhat uncomfortable.

Despite relatively high levels of QMIs, it's not enough to counteract the currently tight housing supply. Many potential sellers are choosing not to put their homes on the market. That might be because they're reluctant to reset their current mortgage rate as mentioned above, or they're deciding to remodel, or they're turning all or part of their home into a rental instead.
A silver lining for builders is that, as a result of home owners staying put, new homes now make up over 30% of housing inventory.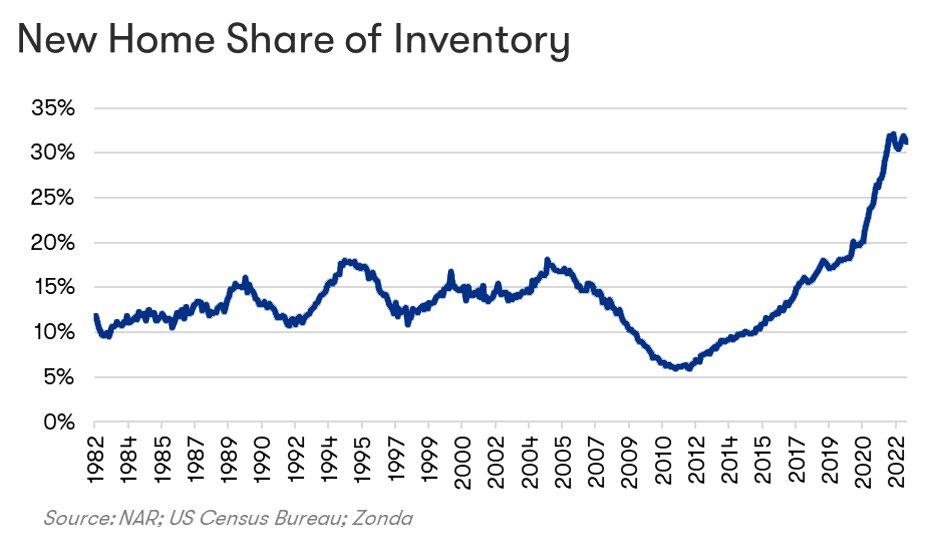 The other main potential benefit for builders of homeowners staying put is the market for remodeling.
REMODELING
In addition to homeowners deciding to stay in their existing home instead of selling and resetting their mortgage rates, remodeling is also a response to the ongoing affordability challenges mentioned above. Some buyers are willing to buy a home that needs some work if that means they'll pay less and have lower monthly payments. Turnkey homes are expensive, so they can get a better deal if they're willing to do some remodeling.
In Zonda's survey of consumers, 80% said they'd be willing to buy a home that needed some remodeling. (They expressed varying degrees of enthusiasm about this prospect, however.)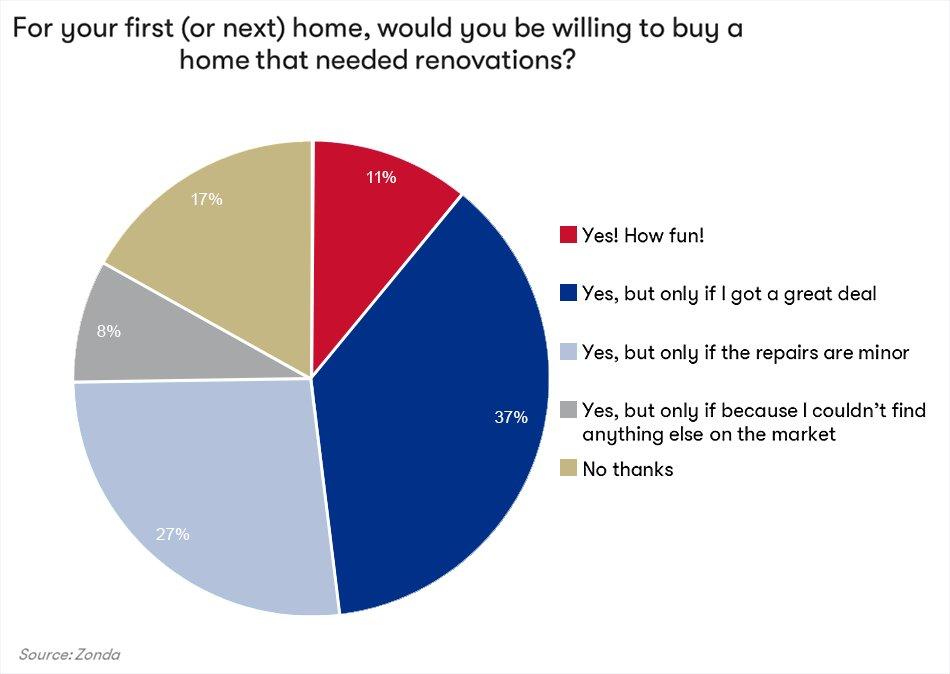 There's a big opportunity for builders doing remodeling work as more homeowners decide to stay put or to buy a home that needs work. Wolf lists three different categories of remodeling:
Maintenance and repair, below $2000
Mid-range – e.g. updating fixtures, flooring, lighting; replacing windows or roof; no structural remodels or additions, $7000 - $30,000
Major renovations — e.g. additions, moving walls
Zonda forecasts that, after a -7% dip this year, spending on remodeling will increase by 9% in 2024 and by 11% in 2025 — with the majority of those projects being major alterations or additions by the end of 2024.
In the next 12 months, Zonda expects the following building products to sell particularly well:
Windows and doors – Typically sell well when mobility drops and people decide to stay in the same home. Also, spending on windows and doors tends to increase after big swings in weather. The more frequent extreme weather events that have been occurring will boost sales of windows and doors.
Garage floor coatings
Kitchen fixtures and finishes — Mid range remodels, not major renovations.
Cladding — This is predicted to bounce as soon as mortgage rates start moving back downwards.
HVAC
Single family homes are in their 'prime remodel years' when they're between 20 and 39 years old and Zonda projections indicate that the number of houses falling into this category will continue to increase over the next few years. This is a growing opportunity for builders who can tap into the remodeling market.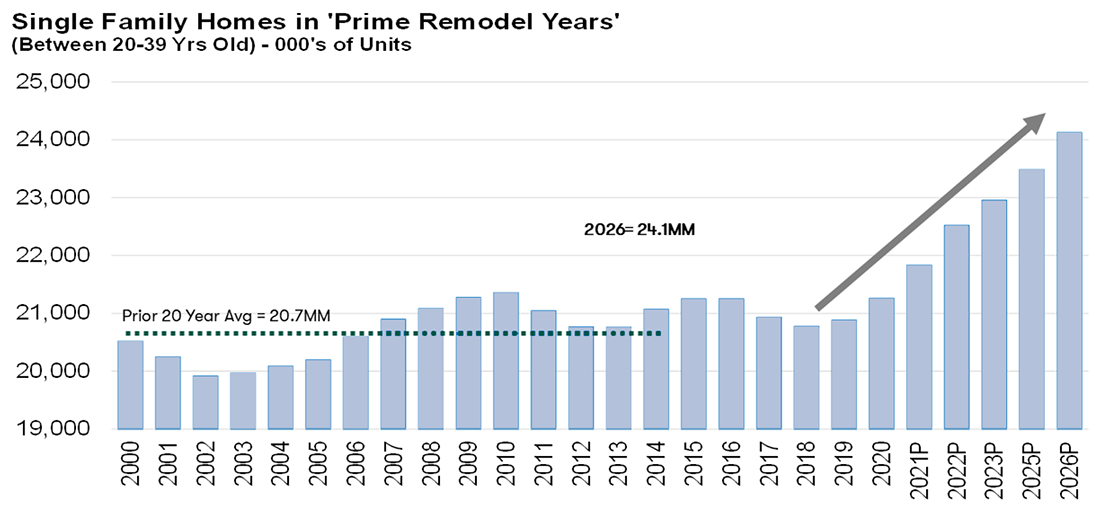 If you think remodeling makes sense for your business strategy, contact the team at Builders FirstSource to make sure you have the best tools, products, and planning strategies. Our experts can help guide you from your project bid until the job is complete.