EVERYTHING YOU ALWAYS WANTED TO KNOW ABOUT DOORS
...and a few things you never thought to ask.
October 8, 2020
Matt Risinger, CEO of Risinger Build, teamed up with three industry experts in Dallas at Builders FirstSource's 300,000 square-foot custom mill shop for an episode of Build Show LIVE. During the live webinar event, the panel discussed and dissected the technical details of the most popular door styles from good to best. Here's an overview to help guide in selecting the best door package.
DOOR OPTIONS FOR YOUR NEXT PROJECT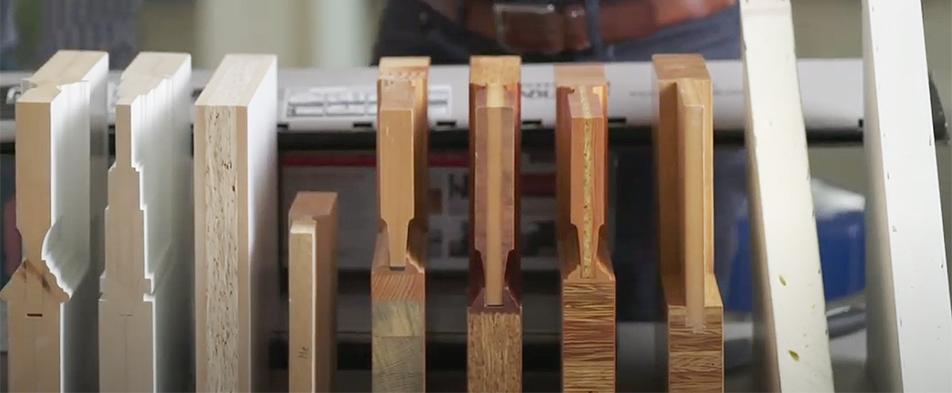 GOOD: PAINT GRADE DOORS
Hollow Core Hardboard: You'll find hollow core hardboard interior doors in apartment buildings and entry-level homes. Comprised of two pieces of hardboard skins, a large steel die presses a 3-inch fiber and pulp mat into an eighth-inch rigid, super dense product that keeps its lines. The stile and rail are made out of MDF, resulting in a low-cost, lightweight door that has no problem holding hinges and screws.
Cost: 6'8": $80. 8'0": $135-$140*
Solid Core Molded Panel: This roughly 80-pound door uses the same skin as the Hollow Core Hardboard door, but a particleboard core fills about 95 percent of the void between the two skins. The rail is MDF, but the stile is now a solid piece of wood. "It adds weight," Aaron Corey points out, "so you get the feel of a good, solid wood door."
Cost: 6'8" ~$150. 8'0": ~$200-$210
BETTER: PAINT GRADE DOORS
Entry-Level Model: This medium-tier, commodity-based door offers a solid wood stile and rail as well as a wood-type core. MDF panels keep the door nice and stable, and bladder-pressed panels let you achieve a raised-panel look with an engineered center. You're limited, however, in the kinds of panel layouts, stickings and components you can use on the stiles. "That's actually what I put in my house 14 years ago when I remodeled," shares Matt Risinger, adding it's "a nice upgrade from a solid core door."
Cost: $300-$400
True Stile and Rail Door: Built like custom wood doors, these doors are highly engineered and made out of MDF. An LSL (laminated strand lumber) core makes for a very stable door. Built to architectural standards with separate components, each MDF panel can serve as a true, crisp molding. As a result, when you put the stiles and rails together, you end up with really sharp details. This door type is highly customizable, so the design options are nearly limitless.
Cost: $500-$600 (add $100 for popular CNC-routed solid poplar jamb)
BEST: PAINT GRADE DOORS
Entry-Level Model: With this commodity-based, stain-grade door, you're limited on panels and sticking options. The stiles and rails are not engineered, and its thin veneer can be easily chipped or damaged. This is a great option, however, for the entry-level buyer who would like to have stain-grade doors.
Cost: $500-$650
Highly Engineered Model: This top-of-the-line, stained-grade door uses three-eighth-inch thick solid lumber on the outside of the panel, which allows for router-carved architectural details. You can choose between highly water-resistant cores, including MDF, LSL strand core and LVL (laminated veneer lumber), which prevent warpage and movement. The sturdy construction makes stain-grade wood doors effective for exterior use as well. This door can last for generations with proper finishing and maintenance, and you can actually repair it without worrying about sanding through the veneer.
Cost: Starts at $1,000 (can go up in price depending on the number of panels and type of wood)
EXTERIOR DOORS
Flush Metal Door: You'll find these in many apartment complexes, but a lot of residential, single-family builders also use these as fire doors between the laundry room, mud room and garage. A polystyrene core and LVL stiles provide rigidity, and a non-rot bottom rail provides durability. The doors still dent fairly easily, though, and are difficult to repair.
Cost: 6'8": $400. 8'0": $500 (with frame and weatherstripping)
Fiberglass Exterior Door: Simply put, these doors won't dent. Fiberglass is much more rigid than metal, and this door's fiberglass skins are approximately an eighth-inch thick. You can choose between a number of clever threshold options, including a replaceable deck sill and an articulating threshold, to keep your exterior doors weathertight. In addition, Builders FirstSource's FrameSaver® door jamb technology, resistant to rot and insect damage, is engineered to protect and preserve exterior door frames.
Cost: 6'8": $550. 8'0": $900 (can go up in price if emboss, add glass or panels, etc.)
---
RELY ON BUILDERS FIRSTSOURCE FOR YOUR EVERYDAY AND CUSTOM NEEDS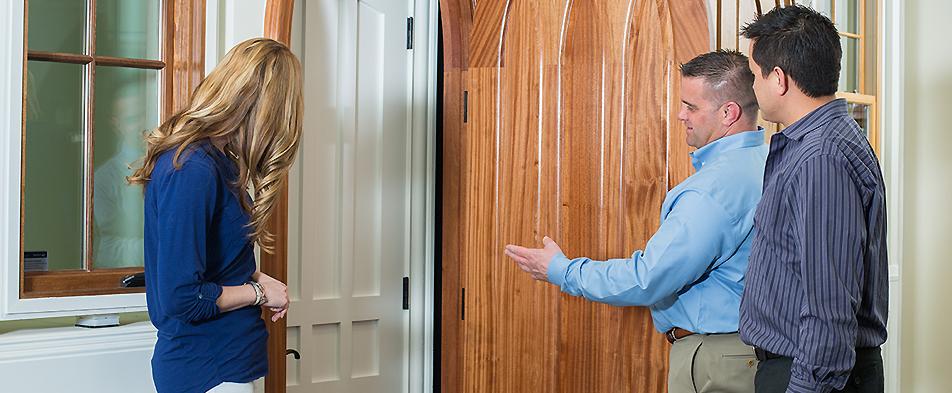 As Matt shares in the episode, Builders FirstSource's state-of-the-art facility goes through about 35,000 slabs per month (that's about 1,000 slabs per day!). While Dallas is one of our largest custom mill shops, we have more than 49 millwork facilities around the country. Your local Builders FirstSource rep can access any of our custom millwork capabilities, so you can get exactly what you need, no matter where you're located.
Whatever the architect, designer and builder can dream up, Builders FirstSource can build. Aaron explains,
"We have the capabilities to take a totally unique design and create it from scratch. So, every day, we're being asked to climb new mountains, answer new challenges and come up with ways to implement these grand visions. We help people that dream really big get what they want."
Our experts can make recommendations to fit your project style and budget. Most importantly, you can rest easy that when your doors show up at your jobsite, they're ready to go. Matt points out, "You can specify down to the specific hinge you want, the specific door you want, the specific jamb you want, so when that shows up, it's all fully customized. And that's one benefit of working with a really top-notch firm like [Builders FirstSource]."
*Costs cover a prehung door unit, with door in frame complete with jamb and hinges.
Costs shown are estimates only, may vary by market, and are subject to change. Please contact your local Builders FirstSource for a price quote.