THE IMPACT OF MILLENNIAL MIGRATION ON THE HOUSING MARKET
May 6, 2022
Rising worldwide inflation has been dominating our economic news for a while now; however, there are many positive aspects to the economy as a whole. Wages are up 4% compared to last year — a level of growth that's the highest it's been in 20 years. The national unemployment rate was 3.6% in April. High-income employment has completely recovered, and in some markets high-income employment has actually grown.
The places where high-income employment has recovered are also a lot of the same places where people have been migrating to; many are in the top 10 or 15 cities with the highest net migration. Companies have been moving to these cities or opening second headquarters there. Austin has been at the top of the list of net migration in 5 out of the 6 last years. (It didn't drop far down the list in 2017-2018. It was in second place.)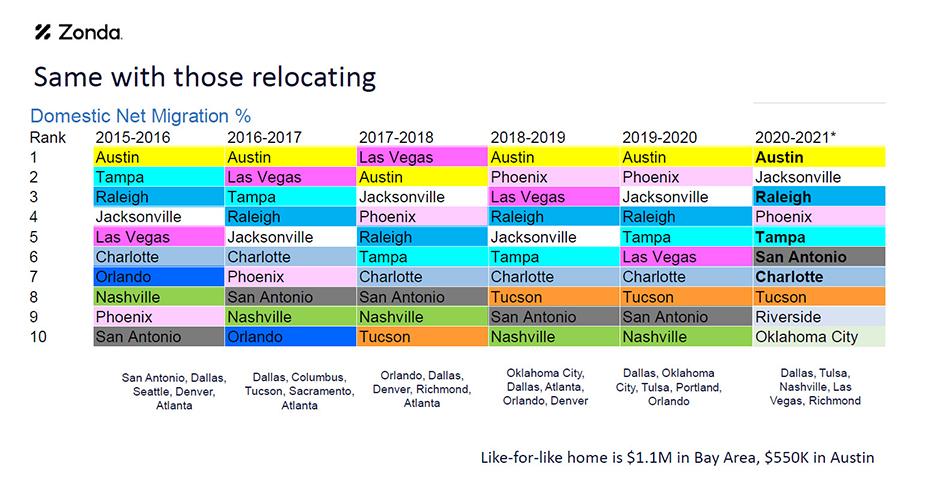 Demographics for the housing market are currently about as good as it gets, with the biggest share of the population in their early 30s, around the time when people are typically thinking of buying a home, settling down, and having a family.
WHAT DO MILLENNIAL HOMEOWNERS WANT?
For many years, millennials have been thought of as younger people just starting out in home ownership, and to get on the home ownership ladder, millennials are content to buy a smaller home. Pre-pandemic, 70% of millennial homeowners owned a home under 2000 sq. ft. However, now, that percentage is 44%. Millennials are starting to buy larger homes.
A plausible explanation for this change is that millennials now aren't only first-time home buyers; they're also move-up buyers and the pandemic encouraged more of them to move up. In addition, some are likely moving from a higher cost area to a lower cost area and increasing their square footage that way. (Moving to a different market became easier to do once work-from-home was a more recognized option.)
Additionally, builders should keep in mind is that, although some consumers are content with an attached home, research shows that the goal for most is still a single-family detached home. Inside the house, millennials (as well as boomers) still want large kitchens. Remote-working millennials are also looking for home office space as well.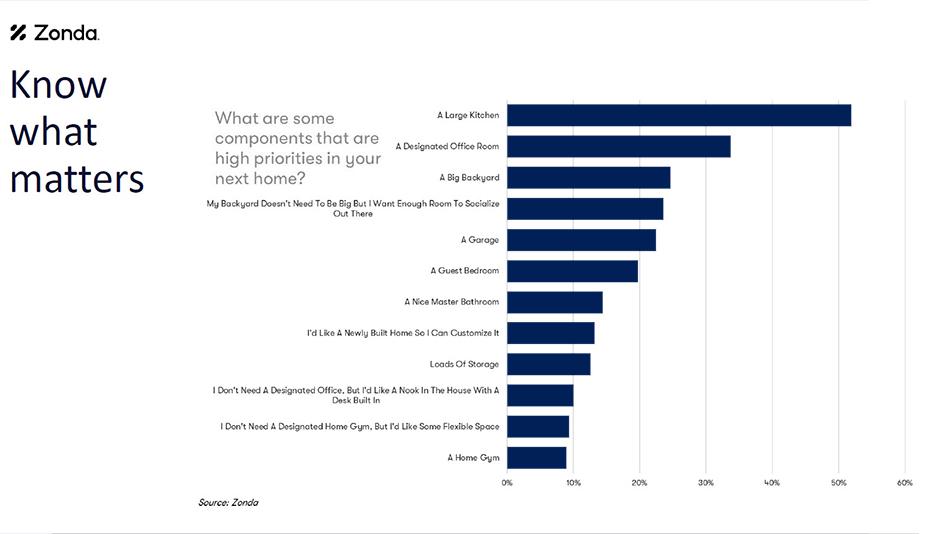 HOUSING AVAILABILITY AND HOME PRICING
Demand for housing is strong, but the supply is not meeting that demand. Active listings are very low and far fewer new home communities are being built, compared to 2019. (A new home community is defined here as one in which there are 5 or more units for sale.) Builders are selling out new home communities more quickly than they can replace them.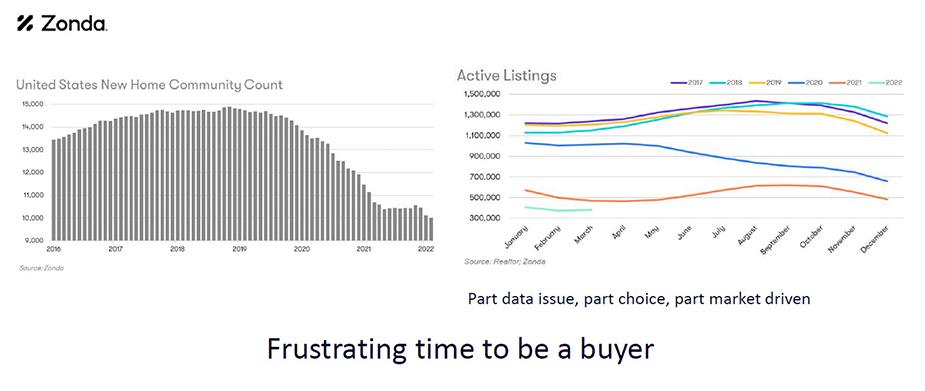 Given low housing availability, increased costs for materials, labor, and transportation, plus supply chain issues, it's not surprising that home prices are up. But it may be surprising how much they've gone up — on average, nearly 20% YOY. In Austin — to take the city at the top of the list for home appreciation — top tier homes went up by 46%, middle tier by 45%, and bottom tier by 48%, year-over-year.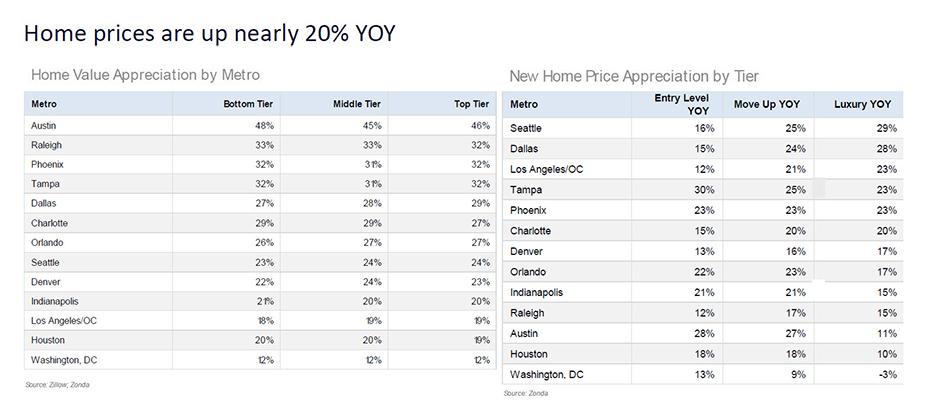 Seattle is the city at the top of the list for appreciation of prices specifically for new homes. There, year-over-year prices are up 29% for luxury homes, 25% for move-up homes, and 16% for entry level homes.
WHAT ARE BUILDERS DOING NOW?
One in four builders said they weren't having any challenges in today's market, perhaps because they're catering to buyers who are less sensitive to house prices and mortgage rates: investors, those who are relocating to a cheaper market, have a higher income, buying based more on wealth than income, and who are move-up buyers.
In March, 97% of builders had raised prices month over month. 60% of them raised prices $10,000 or more.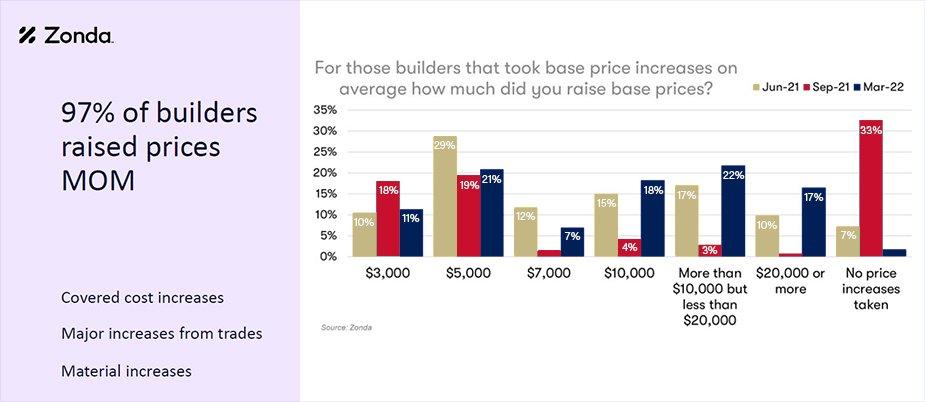 90% of builders are capping sales — intentionally building fewer houses than they have demand for — because of volatile prices and shortages of land, labor, and materials. They simply can't build fast enough to meet the demand they have, and they'd rather turn down a sale than disappoint a customer and not be able to deliver in the timeframe the customer wants.
Builders would love to increase supply, but that's not necessarily easy to do. However, there were 26% more lots being prepared (equipment on site, or being excavated, or have road work in) in the 4th quarter of 2021 compared to a year earlier. So, more lots will be coming available to builders, and ultimately homes to consumers, in the next 24 months. Overall, Zonda is forecasting a 5% increase in building starts in 2022, compared to last year.
Builders FirstSource is committed to staying on top of what's happening in the building industry. Remember to regularly visit our site for new information, including the Market Intelligence Webinar series with Zonda. You can also visit your local stores and speak directly with our experts.
Data graphics courtesy of Zonda.