SPOTLIGHT: BLACK HISTORY MONTH
February 15, 2023
February is Black History Month, a time to recognize the many contributions of Black Americans whose groundbreaking accomplishments in construction and design have helped shape our industry. It also presents an opportunity to spotlight Black team members at BFS who are making an impact every day. There is much to celebrate!
HISTORICAL SPOTLIGHT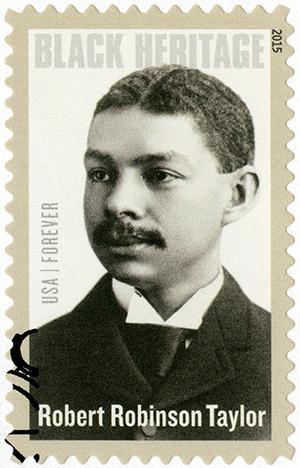 Robert Robinson Taylor of Wilmington, NC is arguably one of the most influential African American architects in history. As the first accredited Black architect in the U.S., Taylor's contributions are significant, and his many honors include a Forever® U.S. Postal Stamp in his honor that was introduced in 2015.

Born in 1868, he learned carpentry and construction from his father, a former slave. He was the first Black student to attend MIT. After graduating, he was recruited to Alabama's Tuskegee Institute by its founder, Booker T. Washington.

Taylor designed and planned the construction of 25 buildings on the campus, including Booker T. Washington's family home, and The Chapel, which was famously described by author Ralph Ellison in his novel Invisible Man. Three other colleges hired him as the architect and builder of their Carnegie Libraries, two of which still stand today. Also, an influential educator, Taylor inspired countless students throughout his 40-year career as a professor and architect to pursue careers in architecture, design and construction.

For more, we recommend Taylor's profile on the MIT Black History Project.
A FEW OF THE BUILDINGS DESIGNED BY ROBERT TAYLOR AT THE TUSKEGEE INSTITUTE
BFS TEAM MEMBER SPOTLIGHT
Our industry has greatly benefited from the many contributions of Black Americans. Each February, we especially want to elevate the voices of those Black Americans at BFS who have shaped – and continue to shape – our company. Below is one such voice from the thousands of Black professionals who comprise our team.
ON WHAT LED TO HIS SUCCESS AT BFS
The key is OPPORTUNITY. Without it you're just putting work in. I have been given chances to prove myself by people who have managed me. My father taught me not to settle and to always strive for more – to keep pushing.
ON WHAT BLACK HISTORY MONTH MEANS TO HIM
If not for notable icons in Black History, like Rosa Parks and Dr. Martin Luther King, Jr., I may not have had the opportunity for equal rights. The efforts and sacrifices of countless Black Americans have allowed me many opportunities in my life, including the ability go into the field of my choosing and, ultimately, grow my career at BFS.
ON THE IMPORTANCE OF EQUALITY
I believe people who are treated fairly and given equal opportunities are able to contribute socially and economically to the community. Equality is good for the economy, improves education, reduces poverty and ensures every individual or group an equal opportunity through resources regardless of circumstances.