2021 Is Shaping Up To Be Another Solid Year For The Housing Industry–With A Few Caveats
June 11, 2021
As we approach the second half of 2021, the world is beginning to look a lot different. At the end of May, half of U.S. adults had been fully vaccinated against COVID-19. Restrictions are being loosened across the country. So, what does this mean for the housing industry?
Builders FirstSource and Zonda's chief economist, Ali Wolf, took a look at where the industry is today and where it's headed. The good news is that the housing industry keeps breaking records for new home sales, selling even more last year than during the Great Recession.
However, builders are still facing challenges on several fronts and they've had to get pretty creative in how they approach the market. So, let's take a deeper dive at what the housing industry looks like during this slow transition back to normal (or at least a new normal).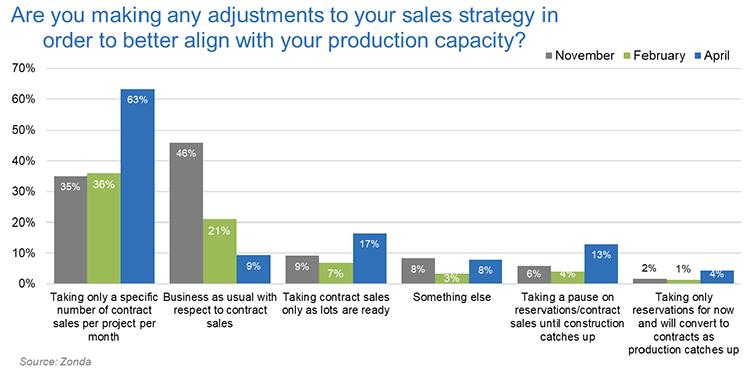 New Home Sales vs. Supply
First, the industry has experienced solid growth in starts this year. Zonda expects single-family housing starts to be up more than 13.4% year over year, which is in line with their forecasts from this past November. Zonda's New Home Sales forecast has sales up 9.8% year over year.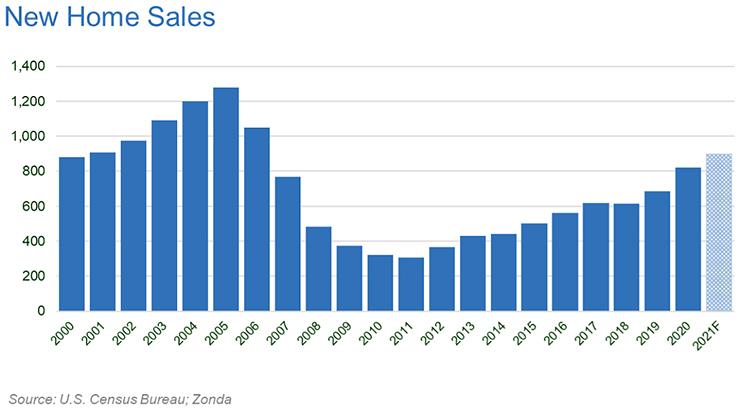 Prices have skyrocketed, but keep an eye on interest rates
Price growth is off the charts. Last month, an astonishing 97% of builders reported raising home prices. More than half are raising prices $10,000 or more on a month over month basis. In fact, price appreciation for the lowest, middle, and top tiers has been increasing about 9-10% across the board on a year over year national basis. Most of the top markets have experienced double-digit increases, with new home prices in Phoenix up 18%.
The number one reason for increasing home prices? Building material availability and costs and, next on the list, builders trying to closely manage their production. Builders have a lot of contracts, but they want to ensure they can keep production steady. And let's not forget the housing boom and incredibly high demand. Single-family construction is up 36% year over year.
Builders have adjusted pricing to account for all of these factors. How long this can last will depend on interest rates. Zonda forecasts an average interest rate of 3.3% in 2021, with it approaching 3.5% by the end of the year. That's a little below the Mortgage Banker Association's 3.7%, above Freddie Mac's and the National Association of Home Builders' 3.4%, and in line with Redfin's estimate. This is something to keep an eye on, as increasing rates will impact affordability at some point, and the industry will have to recalibrate.
Near Term Frustrations for Everyone
It's no surprise that builders' top two concerns are building material costs and availability, and have been for the past several months. While the demand is there, the supply simply isn't. A lack of lots, or gapping out, is no longer in the top five of their concerns, as it was in November 2020. Skyrocketing land prices is, however, along with increasing sales prices (the first time on this list) and affordability.
Builder's Top Five Concerns:
May 2021
1. Building material costs
2. Building material availability
3. Affordability
4. Rising sales prices
5. Land prices
November 2020
1. Gapping out/running out of lots
2. Land prices
3. Building material costs
4. Winter and rising COVID-19 cases
5. Building material availability
Source: Zonda Builder's Survey
Builders have also been scrambling to find workarounds for the following four issues:
Supply disruptions (86%)
Government services (53%)
Labor shortages (49%)
Land disruptions (37%)
We've already touched on the current lack of alignment between supply and demand. But, did you know that an astounding seasonally adjusted annual rate of 1.76 million building permits had been pulled for residential construction as of April 2021? For reference, about 1.3 million permits were pulled in 2019. This massive spike in building permits has put even more pressure on already strained government resources.
34% of builders expect their lot supply pipeline to be most constrained during the second half of 2021 before easing up in 2022 and 2023. All of this comes down to the fact that sales exceeded what any of us expected, and builders are not going to be able to hit a total orders number if they don't have enough homes to sell.
On top of that, almost half of builders report dealing with labor shortages. While the construction industry is up 46,000 workers, it is a surprisingly tight labor market. We're one of the very few sectors in the economy to be outperforming the levels we were seeing before the pandemic. But, given the huge increase in demand, we still don't have the amount of labor we need to keep up with all of the opportunities. While we expect that to ease up over time, it will continue to hamstring some builders in the near term.
The housing industry is currently caught between unexpectedly high demand and several supply-limiting challenges. Balancing them is going to be a master class in patience, flexibility, and perseverance. For those builders who can weather the storm, the rewards will be well worth it.
Sign up below to be notified of our next Market Intelligence Webinar.