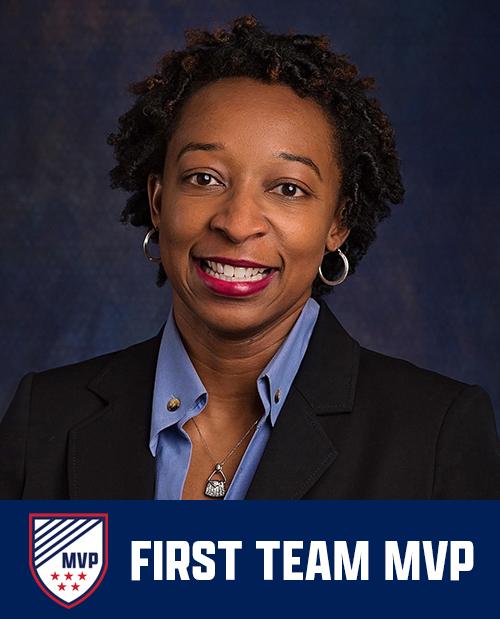 FIRST TEAM MVP:

YATEEKA SCARBORO

PHR | HR Manager– Raleigh, NC Corporate

February 23, 2022

"Yateeka goes above and beyond every day. She doesn't do it for praise or for recognition, but because she cares about her customers. In all the craziness of the merger, Ceridian changes, headcount reductions, new hires, team member sickness and even death, Yateeka has never let me or the team down. You know when you contact her that she will not only get the job done, but she will get it done in a timely manner, follow up with you on a consistent basis and do it with a smile on her face. Yateeka truly cares, and it shows in her work every single day. When a team member tragically passed away last year, I ran as fast as I could to find Yateeka because I knew she would help me. I can't even describe the time, compassion and love she put into not only helping me navigate what we needed to do but how to do it. She was there working with the family, helping them in this devastating time. She arranged counseling for our team, checked in every day, facilitated a fundraiser and even attended the service. For Yateeka, people count, integrity is everything, her customers are the most important and excellence is shown in everything she does."

"Having worked with Yateeka for several years, I've witnessed her going above and beyond to help her colleagues with whatever need arises. Yateeka is proactive and resourceful to get things done and does a great job of balancing the needs of our team members and our company. She has helped establish and maintain a people first culture at Builders FirstSource and always brings a positive attitude and smile to everything she does."

"It is a pleasure to work with Yateeka. She is an outstanding business partner. You can always count on Yateeka to provide thorough and timely assistance with a smile and positive attitude. In addition to providing superb HR support, Yateeka goes above and beyond to lead and support charitable activities, team building events and various team member programs."