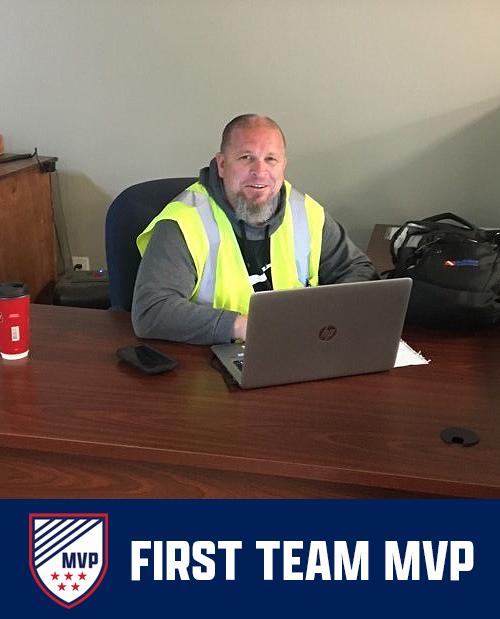 FIRST TEAM MVP:

RODNEY HATCH

Safety Coordinator - Shelby, AL; Pelham, AL; Huntsville, AL & Chelsea, AL Central Division

March 10, 2022

"As a safety coordinator, Rodney does a great job keeping us all safe and making all of us feel like we really matter to BFS. Additionally, in a poor community near one of our locations, he builds, sets up and manages anonymous "blessings boxes," where people can drop off, or take, household and food items. He also put together a drive for our Louisiana neighbors suffering from Hurricane Ida, in which he encouraged his coworkers to donate items that he delivered there himself. He has also created and built "Veterans Walls" at two of our locations, which makes our veterans feel very appreciated. Most people don't even know that he does these kinds of sorts of things outside of day-to-day job responsibilities (nor is it not his style to ask for recognition). I would love to see him recognized because I think this kind of humanity needs to be rewarded and encouraged. I am proud to work with Rodney and proud to know him."

"Rodney is very diligent at creating a healthy and safe work environment while making each and everyone feel like their area is top priority at BFS. I am proud to work with such a humble individual who exhibits the type of humanity and kindness we need in the world today."

"Rodney is an exemplary team member, who when assigned a project, gives it 110% every time without being asked. Being a safety coordinator can be difficult because others often feel that the person's role is to make their job harder. Rodney takes that in stride and continues to push each and every person to be the safest and best team member they can be. He has a way of making you understand why safety is so important, even though at times it can be cumbersome. Away from work, he's also an all-around genuine good guy, who just wants to help and make everyone a better person any way he can. We are grateful for what Rodney does at BFS to help keep us all safe, as well as thankful for his service to our great country as a US Marine. It's people like Rodney who allow us to do what we do every day. Thank you, Rodney , for your service to BFS, as well as your time as a US Marine. You are greatly appreciated!"