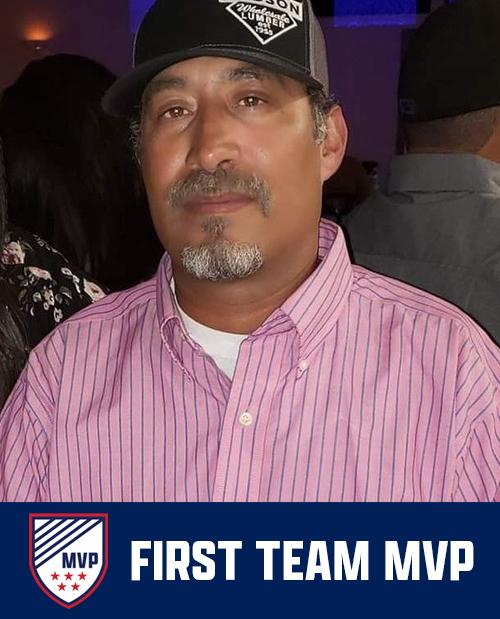 FIRST TEAM MVP:

EDDIE GUTIERREZ

Repair Technician - Lubbock, TX - Millwork South Central Region

June 15, 2022

"Besides his everyday job of doing service, he goes above and beyond and helps at all locations when needed. Whether it's at the Truss, Door Mill, or Lumber Yard, Eddie jumps right in and gets the task completed with a smile. He also gives guidance to the new guys to help them perform their jobs better. Whether it is at work or after hours, Eddie has a good heart and is a great person if you need help. Eddie also takes safety seriously while he is out on job sites and in the facilities. He is useful in many ways and is great with everyone."

"There are many words that I can use to describe Eddie. Starting with his contagious positive attitude that will have you laughing within a few words. Not only is he a team player, but his work ethic is admirable. He wants the best for the company and our customers. He has used that work ethic within every position he has had in his career. He encourages those that he works with and around him to do their very best. I am very fortunate to know him as an outstanding employee, a great person, and a good friend. I have appreciated our heart-to-heart conversations about life. It has been a pleasure to work side by side with Eddie for the past three years. Thank you and continue being the person you are, it has impacted a lot of individuals at work."

"Working with Eddie has been great! He is the true definition of a team player. Whether it is with the customer or helping his coworkers, he will do whatever it takes to get the job done right. Eddie has a great attitude and is always smiling and willing to help."