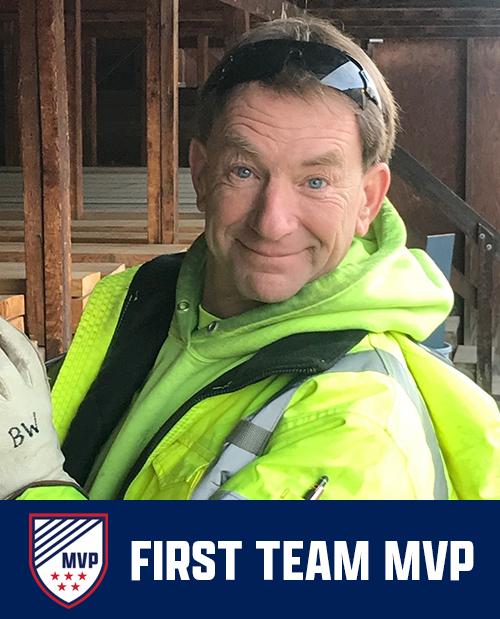 FIRST TEAM MVP:

BRYAN WELKER

Yard Foreman – Durango Lumber Yard, Durango, CO

January 26, 2022

"Bryan ensures safety is a top priority throughout our entire location, not only by following safety procedures, but by going over safety procedures with our whole team monthly and whenever there is an incident or a 'near miss: He also works with a people first mindset. He shows respect and consideration in every interaction. This makes everyone feel welcomed and invited to come to him for help. Bryan shows his integrity every single day. He is honest and extremely reliable. He sees his tasks through to the very end and ensures he does them correctly. He does all of this while balancing many responsibilities. Bryan is always happy to help fellow team members and customers alike. He helps meet customers' needs in the yard, including helping load up the products they need. Additionally, Bryan is resourceful and tenacious and is constantly problem solving and coming up with solutions to transform our store for the better and helps other feel empowered to do the same."

"Bryan is one our longest serving team members with over 20 years of experience at this location. He is always quick with a smile and eager to help out wherever he is needed. His humor is contagious and helps lift everyone's sprits each day. He prides himself on safety, accuracy and customer service. He wears many different hats, but his most important is safety, along with the various reporting that safety requires, he makes our monthly safety meetings enjoyable, with sincerity and information combined with a nice dose of humor."

"Bryan's positivity, calm demeanor and great attitude is apparent as soon as you meet him. Bryan is organized and detail oriented as is evidenced by our spot-on annual inventory and our long standing excellent safety record. It takes a creative person to make a monthly safety meeting informative and entertaining. Bryan's creative approach to his training presentations keeps us engaged and open to learning. He is also involved with onboarding of new team members and is welcoming, detailed, informative and patient with all new hires."