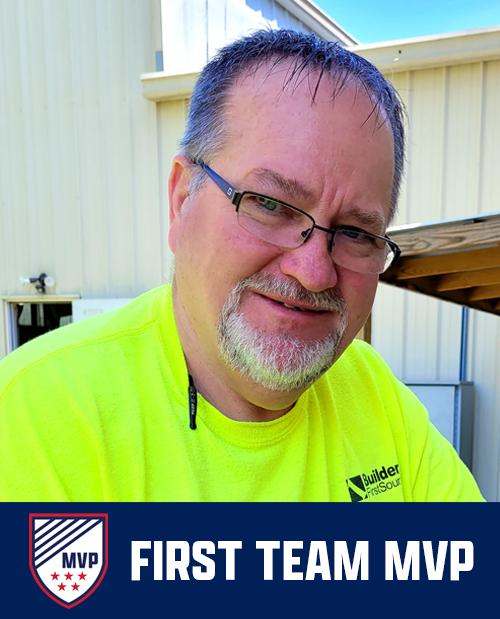 FIRST TEAM MVP:

BRAD DAUGHERTY

Supervisor Production Indirect Millwork - Millwood, WV Millwork North Central Region

April 20, 2022

"Brad is our go-to guy for everything. He will figure out any problem or task given to him. He has helped create better processes, making the task easier, safer, and faster. Brad not only goes the extra mile with coworkers and customers, but is willing to help anyone in or outside of work. He has trained many of his coworkers and is known to be an excellent mentor. He helps without being asked, he will stay over when needed, and much more. His values have helped make the BFS Millwood location a great place to work by rubbing off on those around him and making them better."

"Brad is an exceptional person. He is always willing to help solve any problem and is great at coming up with solutions. Once during winter, my tire pressure lights were on in my car, Brad helped me fix it by putting air in my tires. He goes above and beyond to help his fellow coworkers in and out of the workplace. When I am unsure how I need to build something on paper, or what components go into building it, I always go ask Brad, and he is always happy to help."

"Being new to the industry, Brad has helped me learn a lot in the last year. He is eager to teach new team members and assist them any way he can. He willingly accepts new tasks and always takes the time to listen to those around him. Brad is a very respectful, committed and honest person, which makes him an outstanding supervisor. He always goes above and beyond without even being asked. These are just a few of the reasons why Brad is a huge part of our team and helps this business succeed every day."