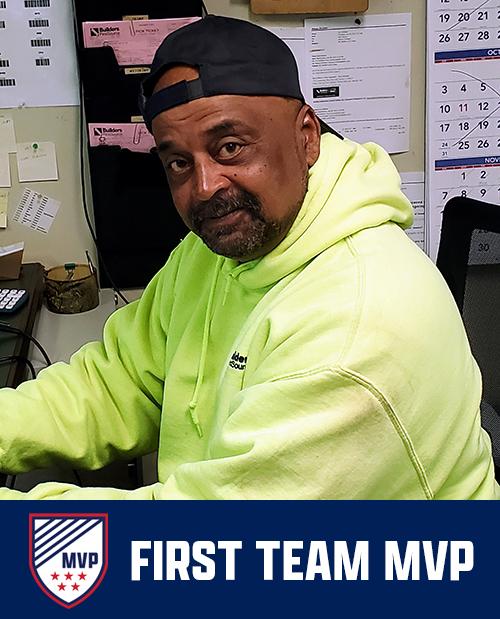 FIRST TEAM MVP:

ALONZO CHRISTIAN

Delivery Manager – Lumber Mid-Atlantic Region, Williamsburg, VA

February 10, 2022

"Alonzo has been in charge of operations for this location since BFS bought it from ProBuild in 2015. He was in charge when ProBuild bought it from Roper Bros Lumber Co in 2009. He was in charge when Roper bought it from Saunders Supply before that. The expression 'Alonzo comes with the building' is a popular one around here. He is the model of efficiency, consistently turning in impressively low operation expense numbers. in 2020, this location ran at 13% operating expense ratio and is around 16% YTD 2021. One may conclude that having a lean OPEX would create harbor morale issues among the staff, but due to Alonzo's leadership and communications skills, that is quite the contrary. His team is engaged, upbeat, loyal and approach their work with great attitudes. In my 15 years in the lumber industry, I have never worked with a more efficient and resilient operations leader."

"Alonzo's team begin work at 5 am. This is key in our traffic-dense area, trucks are always loaded, so they get out the gate before many other lumber companies even have theirs unlocked. Because of this we are effectively able to get two of the much coveted 'first-out' deliveries per truck, per day instead of one. A very useful tool for a smaller yard like ours."

"Alonzo is the 'ultimate professional;' who leads our Williamsburg yard and delivery team to be their best! The safety performance at his location has been tremendous, with multiple years incident-free. Alonzo always puts our customers first to satisfy their needs and works extremely well with the sales team. His dedication to achieving excellence is exemplified with great inventory performance year after year. He is one of the best delivery managers I have worked with in my 30-plus years in this business."